Time Out Hong Kong, a magazine usually devoted to nothing deeper than surveys of up-market hamburgers, gets philosophical and asks the age-old taxonomical question: in what box do Western residents of the Big Lychee go? Are they expatriates or immigrants?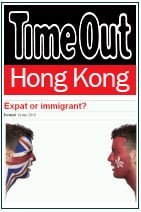 The classic 'expat' still exists. Ordered to come here by a company, accompanied by maid-dependent bored wife/bratty kids/smelly dog, living rent-paid in a white enclave, following their native land's soap operas and sport, eating only meat/potatoes/veg, doing stereotypically – even self-consciously – expatty things like junk trips, going to Phuket, buying a property in some place like Perth, joining the Hash House Harriers (if they're still around), and looking forward to their next trip home. But they are very much a minority.
Those of us who turned up for whatever reason 10, 20, 30 years ago and never left will say that Hong Kong at some stage became home: our friends are here, our job is here and our whole life is here. Many of us find the lands of our birth are now unfamiliar and maybe uninviting. Through years of exposure, we have absorbed some local culture and, to whatever degree we are comfortable with, speak, eat and even act or think locally. It all sounds respectable and honourable. And then, halfway through the article, along comes someone called May Holdsworth who hits the nail on the head by saying, in effect: "Naaah, they're just tax exiles."
At this point I stop and look at myself in the mirror. When I arrived in Hong Kong I had a 29-inch waist, little money, no job, little useful work experience and a distinct lack of any sort of burning ambition. That last item on the list still holds good, but everything else has changed. I came in search of an income as much as exotic adventure – we all need to eat. Today, I have a crummy but convenient and long paid-off property and an accumulation of liquid wealth equivalent to several decades' worth of current monthly outgoings. Where else in the world could I have done that? Not somewhere with 2% annual GDP growth and 40% tax. If Timbuktu had hit on the right economic formula, we'd all be able to get by speaking Bambara in the street market, enjoy chicken and peanut stew and know a fair bit about and genuinely appreciate Malian history and culture. But Hong Kong did it instead.
Inevitably, Time Out interviews Mike Rowse, the 1970s British backpacker who ended up in a senior position in the Hong Kong civil service and took Chinese citizenship. Other non-Chinese Hongkongers have disowned their existing citizenship to do this. Some are of south Asian extraction and were left here with only second-class British documentation after 1997. German-born Canadian entrepreneur Allen Zeman quite possibly thought it would help his local political connections and mainland business interests. Rowse seems to have done it because it emotionally felt right.
He likes to tell the story of how, when he worked for the government and would travel with an ethnic Chinese colleague with Australian citizenship, he would hand both passports over to the immigration inspector and enjoy the look on the official's face as he tried to puzzle it out. Also, you can use the fast PRC home return permit channel at Lo Wu. That's about it as far as advantages go. (I am pretty sure that Rowse, being UK-born, could reapply for British status any time he wants.)
One thing you can be absolutely sure of, regardless of your Putonghua/chopstick/erhu skills, is that you will never be considered Chinese without serious cosmetic surgery. Ask young, gifted and half-black Shanghainese Lou Jing. Who would want her detractors as fellow citizens?