The 'it's-not-a-bubble', otherwise known as 'our healthy property market', roars ahead courtesy of almost nonexistent real interest rates, a government that thinks creating an artificial shortage of homes is a shrewd policy, and the uncontainable, grasping cunning of real estate developers' marketing tactics.

Behold Festival City, a half-built strip of high-rises in Tai Wai, the first bit of Shatin you enter after coming out of the tunnel from civilization under Lion Rock. The site is squeezed between two spurs of Route 8, the HK$18 billion-plus-plus freeway linking Shatin to Tsing Yi that not many people use. The other main feature of the neighbourhood is the Mass Transit Railway maintenance yard.
There was a time when this would have been considered a run-of-the-mill residential project aimed at the reasonably humble middle class. Under the surface, the accommodation is really little different from that at City One, the 1980s development closer to beautiful downtown Shatin. But since then floor areas have come down, and prices gone up, so developers can add a tacky foyer with marble and chandeliers and a pool and clubhouse (generating ongoing fee income for themselves), and call it luxury living.
The website, complete with videos of blond Westerners to show you how high-class everything is, adopts a mildly deranged theme based on brand labels, namely: Landmark ("Be the centre of eminence"); Homme ("Conquer with free rein" – about how convenient it is to drive to Kowloon, Central and the border in your Porsche with empty, traffic light-free Route 8); Lady ("Walk tall in life" – non-specific glamour); Junior ("Festival City inspires children's intelligence and artistic taste via X-games principle"); and Florist ("Be embraced in green oasis hub"). Then there is "European aesthetics at its finest … Versace, Fendi, Swarovski and Armani … all tastefully set … for all to admire," for which read, "others to envy."
Even allowing for the fact that mainlanders, with their supposedly unsophisticated and superficial preferences, are a target market here, this is trashy second-rate advertising. And the reason is simple: the developer doesn't care. It is going to sell anyway. The challenge is to extract maximum prices by messing with buyers' minds far more directly than any glossy photos and inane slogans can manage.
Cheung Kong is offering apparently cheap financing; it is not a bank, so Monetary Authority efforts to calm down home lending don't apply to it. It creates a buzz as sales start with the help of newspapers eager to shoeshine Hong Kong's richest tycoon and attract advertising from his vast retail, property and utilities empire. Thus 20,000 rush to Tai Wai, and "$13,000 a sq ft is a reasonable target price," though they're asking less to start with. Rumours fly around that mystery investors from Wenzhou are buying in bulk; the selfless developer, concerned as ever for the public well-being, nobly announces a cap of two properties per buyer. Alarmed purchasers turn up desperate to grab a unit before prices skyrocket. A Mr Leung tells the South China Morning Post how he and his wife wanted a cheaper apartment, but ended up buying a pricier one because the developer unexpectedly started to sell them first, and he was afraid of losing out – at 10pm, amid a frenzy during which Cheung Kong pulled in HK$3 billion from the sale of some 300 units in 4.5 hours.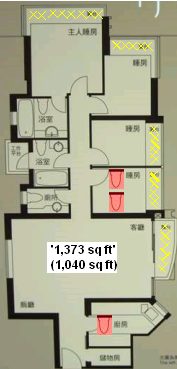 What do you get? The 1,373 sq ft unit contains 1,040 sq ft of space (the rest is in the stairwell, the clubhouse, etc) and cost HK$12-14 million. The floor plan does not have a scale, so I have cut and pasted a few toilets from the bathrooms (in pink) to give an idea of the size. The standing-up area in the kitchen (bottom right) is one toilet (lengthwise – around 2ft 6in) across; the kids' rooms are a bit over two toilets wide, and even the master bedroom (top) would barely accommodate a row of four. In other words, the master bedroom is maybe 10ft x 10ft, plus a window ledge (the yellow hatching is either a ledge or external – I missed some halfway up the left). For US$1.7 million.
It is easy to blame the herd-like behaviour of Hong Kong property buyers, but it is a vestigial survival instinct in this formerly refugee society that when a shortage of anything essential or at least desirable is looming, you leap in and get what you can. Developers are past masters at exploiting buyers' fears of a coming famine. Some make Cheung Kong look decorous in their sales tactics.
You would have thought people would make a fuss, but the middle class at the sharp end of this scam have no friends. Radical politicians like the League for Social Democracy are more concerned with the grassroots in the public housing estates. The Civic Party and Democrats are up to their ears in lawyers, many of whom probably can't avoid working at least indirectly for the property cartel and its various tentacles and ancillaries. The bureaucrats in government make sympathetic noises about affordability, but are, at best, resigned to a bubble as something beyond their control or, at worst, think it's a great idea and grin at how clever they are.
There are, of course, winners:
Eric Yuen Chi-fung, the head of research at Guoco Capital, said the total investment cost of the [Festival City] project was HK$5,000 per sq ft.

Based on the first batch being sold for HK$8,692 per sq ft, this represents a profit margin of at least 74 per cent.
Nice!