The Standard quotes a "wide range of reactions" to the Hong Kong Monetary Authority's introduction of minimum mortgage rates, essentially forbidding banks to make less than 0.7% interest for themselves when lending to homebuyers.  The HKMA's aim is to prevent institutions from undermining the Big Lychee's stable and secure financial system the way their counterparts (or branches) in the US and UK did by throwing cheap loans at low-earners to buy overpriced houses with.  The reactions all come from people who profit from what our bureaucrats like to call a "healthy" property market, in which people confidently buy and sell concrete boxes to each other day after day, putting bigger and bigger price tags on them each time, and everyone's happy.
HSBC's Vincent Cheng Hoi-chuen says: "It is impossible for rates to go too low, since banks cannot lend money in return for nothing."  Except they can, for a certain amount of time, in order to attract suckers ('expand market share').  Having lured the borrowers, they then force pricy insurance packages on them, add hidden fees, and, a year or two down the road, jack up mortgage interest rates well into positive territory when the credit cycle turns.
Hang Seng Bank's Margaret Leung Ko May-yee chips in to say, in effect, that she is glad to see the HKMA's top priority is ensuring the profitability of businesses in her industry.
Standard Chartered's Benjamin Hung Pi-cheng declares: "The market will determine an appropriate level of price in the long run."  He presumably means prices of mortgages rather than property (but there is of course a link, and since Hong Kong's land and property system is controlled by heavy government intervention and a developers' cartel, 'market' forces don't necessarily determine much).  Both global interest rates and local housing supply are being kept artificially low; we're up to our waists in mainland stimulus money.  Where is this heading?
Wong Leung-sing of Centaline Property Agency complains: "It is a very brutish way to intervene in pricing."  The newspaper adds that he thinks banks should be free to lose money if they want and their shareholders can always sell their stakes.  Yes, banks can 'lose' money for a year on a 20-year mortgage with no problem, but Wong is a real estate agent and has a slightly different agenda from the other three.  The financial system is just a financial system, but a 'healthy' property market is everything.
Some say that Hong Kong is always experiencing a property bubble.  It might be expanding, it might be just bursting, it might have splattered a while ago and left foul-looking globules of gooey stuff festering all over the carpet and the windows; it is always there.  They complain that pushing prices up though keeping housing scarce is the only trick people like Chief Executive Donald Tsang know.
Others are made of tougher stuff.  Interest rates are low, liquidity is high, supply is tight; therefore there is no bubble, just a rational explanation.  Nobody here but us fundamentals. The HK Trade Development Council (run by a property tycoon) says so (using Hang Seng Bank research, so it must be true).  HK$12,000 a square foot, HK$24,000 a square foot, HK$71,280 a square foot – such prices are all caused by these hard, sound, undeniable factors.  Rental yields mean nothing; just check out that affordability.  And prices are still only barely back to where they were at the market peak in 1997.  Still only barely!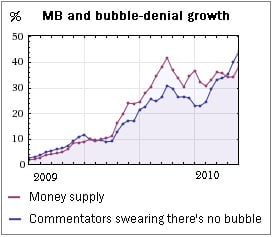 The chart on the right, while devoid of any statistical integrity whatsoever, rather elegantly illustrates a fascinating phenomenon: the correlation between growth in seasonally adjusted HK dollar M1 (the money supply) and the increase in the number of bores, columnists, pontificators, officials, analysts, tycoons and people who bought apartments at the wrong time, assuring everyone that there is not a bubble.  Owing to slightly sloppy methods of accumulating data, some of these may have been referring to mainland property – but I think the picture is clear.  The number of people saying this is not a bubble is rising all the time.  This surely means only one thing: we can relax.
Meanwhile, I can't resist cutting out and keeping this delightful picture of an absolutely charming young lady in today's Standard, on page 7, just opposite the above story.  It's an advertisement from a subsidiary of real estate giant Cheung Kong Holdings: