The arrest of Svengali-like, leering, mystic lothario Tony Chan Chun-chuen by Hong Kong's valiant police is greeted with widespread glee across the Big Lychee today.  I am not sure whether his supernatural powers include divination, but I doubt he was surprised to find himself being detained and questioned after a court found him to have claimed deceased rich widow Nina Wang's fortune with a forged will.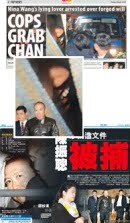 However, two things – in these conspiratorial times – raise concerns in my sordid and suspicious mind.  First, the police action was swift and sure in the extreme: they grabbed him as he came home from lunch, and did so in large numbers.  Second, the capitalist (as opposed to Party-funded) pro-Beijing press have taken great delight in publicizing the proceedings and making no secret of their antipathy to Chan (with the Standard, for example, declaring him a liar in its headline).
Where have we recently seen this combination of uncharacteristic constabulary eagerness and gloating pro-establishment media coverage?  Why – the arrest of allegedly gorgeous post-80s activist Christina Chan Hau-man as she left a radio interview three weeks ago, prompting her to accuse the police of 'white terror'.  Could there be hidden parallels between the two episodes?
Let us recall yesterday's comment about
'flamboyant' property tycoon Cecil Chao congratulating the [Wang] family … reminding us that Wang's fortune was simply shoveled into her lap courtesy of the Hong Kong government's high land-price policy, at the expense of the city's home-dwellers.
Nina Wang and Cecil Chao, like Standard and Sing Tao proprietor tobacco magnate Charles Ho, entertainment mogul Albert Yeung, property man Joseph Lau and certain others, comprise a sub-caste of the Hong Kong tycoon species.  Their public tastes, mores and connections set them apart to some degree from the polite society in which our top government officials and conglomerate-owners mingle.  (Ho is savoury enough to straddle the boundary.  Mainland officials are less fastidious minglers.)
This somewhat outré demi-monde of the establishment has sympathizers among our law enforcement community.  The police apparently allow their and other tycoons' bodyguards to stop passers-by on the sidewalk so the great men can stroll unhindered from their (illegally parked) luxury cars to Fook Lam Moon restaurant.  When a young woman of modest background complained that someone had posted naked photos of her on the Internet, the cops did nothing.  When it happened to starlets working for Albert Yeung's group, it became crime of the century.
Selective zealousness, incidentally, is becoming a hallmark of the Hong Kong police.  Andrew To was charged with assaulting a cop in October yesterday, just after being elected head of the radical League of Social Democrats, masterminds of the by-election/referendum saga.
So where does all this leave Tony Chan?  It could be argued that he is, as a former bartender who once lived with his wife's family in a public housing apartment, a man of the people.  A humble 'small potato', at least before Nina Wang started to remunerate him generously for his companionship and he bought Peak properties, executive jets and so on. Therefore, his current plight could be viewed as the persecution by a vengeful, moneyed elite of an interloping social inferior (think Princess Diana and Dodi Al Fayed).
What this means is that his defence lawyer, the (not identically) flamboyant Jonathan Midgely – or whoever has the job – has an exciting opportunity to turn the case around in style.  He should now assert that Tony Chan was on a mission to reclaim the Hong Kong people's rightful wealth.  The Wang legacy, remember, comes from the rigged, cartelized property market through which most of our tycoons effortlessly extract enormous sums from hard-working people.  Tony, according to this new approach, planned to take Nina's estate and divide it up among all the poor and poor-ish in the city, giving them back their due.  He is, in a way, just another Christina Chan or Long Hair, though peculiarly happy-looking, and with a dash of Robin Hood.  The perfect story: out of the slammer, and a hero.  What more, apart from the jet, could he ask for?