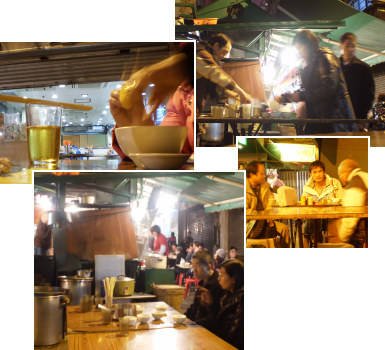 The government wants to improve hygiene conditions at dai pai dongs in Central to make the modest streetside eateries fit for precious tourists to visit.  My local (pictured just days ago) is one of a pair at the pokey, vehicle-free, far western end of Stanley Street, under the Mid-Levels Escalator just yards up from Queens Road.
The surroundings are the usual Hong Kong backstreet grime: bare concrete, stained tiling, rusty drainpipes and assorted drips and leakages, brightened up by cartoon posters pushing anti-rat propaganda.  The al fresco restaurant contributes to the ambience with sooty dark green tarpaulins, stackable plastic stools, fold-up Formica-topped tables, garish lighting powered by dangling antique cables, a couple of industrial-sized rice cookers and various sizzling and banging sounds coming from the cubicle-kitchen with its sweaty topless cook and his wok.  I have resisted the temptation to find out how and where all the washing up takes place.
As the evening goes on and more customers appear, the staff pull additional tables out and start to colonize the narrower intersecting alleyway running up and down the hill.  Normal pedestrian activity continues, with passers-by squeezing through the public right of way.  The clientele are construction guys, teenage couples, the last of the low-earning local families not yet driven out by neighbourhood gentrification, and un-moneyed mainlanders unlucky enough to find the one retail outlet in Central where no-one speaks Putonghua.  And the odd westerner, possibly curious or trendily slumming it, but more probably just enjoying the no-frills but very tasty food.
Food that is all the more tasty because of its low price, and in fact doubly delectable because that low price is a direct result of the fact that the operator pays no serious rent for this place.  Two people can (and in fact recently did) order a couple of giant (660ml) bottles of San Miguel beer, a dish of soy chicken, a dish of salty chili pork and a big bowl of rice each and end up with a bill for HK$106.  In the city's central business district, this is a bargain; the beer alone would cost at least that much in one of Allen Zeman's plastic themed bars in Lan Kwai Fong, and one diminutive serving of nouveau-Vietnamese-Italian-fusion stuff at the latest phony Soho 'concept' would cost 50% more.  It is a vivid reminder of the hidden taxes we pay via property prices.
Obviously, our officials don't have to worry about Hong Kong citizens dining amid piles of diseased rodents' carcasses and rivulets of sewage, but what will they do to make the dai pai dongs suitable for our much-cherished and economically vital overseas guests, whose well-being is a matter of great importance?  No-one will object to practical renovations that make cooking and washing easier.  But – even though this is a technocratic Food and Environmental Hygiene Department project, and nothing to do with the deranged little ear-wiggling cretins at the HK Tourism Board – you can never tell.  What are the odds that in six months time, the waiters will be dressed as Qing dynasty courtiers and handing out fortune cookies along with the Shanghai-style beef and tomato curry (HK$170 + 10%) and tiny bottles of Mexican lime-wedge beer?