As the last of the breakfast crowds leave Yuet Yuen restaurant and head for the office, I peruse the well-thumbed English menu.  The lengthy and enticing list of barbecued meats, steamed fish and roast poultry contains relatively few embarrassing spelling mistakes.  Just remember that for 'penguin' read 'pigeon', and vice-versa, and you won't go wrong.
A familiar voice, shrill and clipped with a more-British-than-British accent, disturbs my peace.
"Can you please reprovision that receptacle away from the existing location?"  I look up to see a flustered but nonetheless radiant Administrative Officer Winky Ip with a phone in one hand and a pile of files under the other arm.  I mouth a silent "what?"
"I, mean, you know…"  She waves her hands around in search of the right words.  "…Move your bag!  I want to sit down."
After we order congee, I confirm that Winky has, as I suspect from her loss of ability to speak plain English, been spending far too long in the office recently.  She and hundreds of colleagues in the civil service have been working overtime for more than a month trying to stimulate excitement throughout the community in advance of the East Asian Games.  No expense has been spared, with posters, banners, radio announcements and guest appearances by the mascots Doni and Ami as part of the countdown to the Games.
"That's been a real problem," she explains, "because the Shanghai Expo mascot, Hibao, has also been touring Hong Kong as part of their countdown."
No less than 18.3% of our government bureaucracy is currently occupied managing the movements of shoddily designed cartoon characters promoting tedious money-wasting carnivals that only loser cities should be interested in hosting.  It's probably a much better use of taxpayers' resources than whatever else they would be doing.
"Anyway, the final thing I have to do is line up bloggers to act as reporter-ambassadors for all the different exciting East Asian Games events.  You're doing DanceSports.  All you've got to do is attend the different competitions – I've got all the tickets – and give it full, enthusiastic coverage on-line."
I nearly choke on a mouthful of melon Vitasoy.  "I'm not doing that!  You must be crazy."
"Well," she tells me with a cruel smile, "it was either that or cue sports or taekwondo.  I thought DanceSports would be suitable.  Sort of revenge."  The smile wears off and she grips her own carton of Vitasoy so hard the milky liquid dribbles from the top of the straw.  "For that time you humiliated me."
God, that must have been a dozen years ago.  I had a choice – be her partner at some bolero class or go to the pub.  What did she seriously imagine I would do?  I try explaining that I don't have my own blog anymore, and just rent a bit of space on that Big Lychee bore's thing, but she won't have any of it.
"You will do it," she tells me as she rises to leave.  "Otherwise I'll enter your details into the Central Personality Index.  Just one call to Paul Tse!"
She wouldn't do that – put me on the Home Affairs Bureau's list of wretches from which officials choose flunkies to sit on powerless advisory boards.
Yes she would.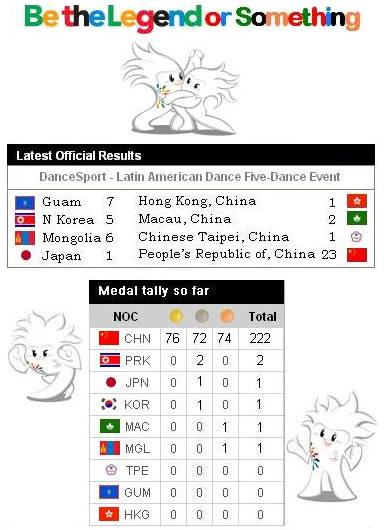 (Stay tuned for live podcast