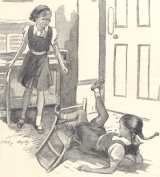 Like a pack of crazed boarding school girls when passions boil over one night in the dorm, the Big Lychee's pan-democrats are scratching each others' eyes out.  We shouldn't enjoy watching the unseemly brawl, but who can resist watching Muffy (played by Long Hair) splatter an explosive feather-stuffed pillow against Ursula's (Albert Ho) face?
The idea of resigning from the Legislative Council in order to force by-elections that could serve as a referendum on universal suffrage would have been brilliant in, say, 2003, when – bliss it was in that dawn to be alive – anything seemed possible to the Hong Kong people.  Since then, Beijing has made it implicitly but abundantly clear that real democracy isn't going to happen.  The government's proposed electoral reforms for 2012 are a blatant declaration: the mainly cosmetic expansion of the franchise from 1998 to 2007, agreed in pre-handover days with the British and written into the Basic Law, are as far as the process will go.
Meanwhile, with no cohesive opposition to make trouble, the city's leaders are free to fritter the people's wealth away on pointless projects that benefit their friends – mostly tycoons, but also faded bureaucrats in need of parasitical little empires to run.  The director of audit has zeroed in on the hallucinogenically named HK Productivity Council for waste, notably vanishing computer and lab equipment.  (Here and here; for masochists only.)  Like the HK Trade Development Council, the HKPC is a remnant of our 1960s manufacturing-based economy and has expanded as fast as its role has shrunk.  If it were possible to detach such organizations from their public-sector financial lifeblood yet maintain and harness the impulses behind their growth, we could achieve a perpetual motion machine.
One clear piece of evidence that a publicly-funded enterprise is just another bunch of money-squandering scumbags is the 'sponsored feature' that they pay to have published in the newspapers.  Yesterday's South China Morning Post featured yet another desperate, full-page attempt to sell us the HK$50 billion-plus high-speed rail link to Shenzhen. Today it's the turn of the HK Science Park.

Like Cyberport, the HK Science Park offers publicly subsidized accommodation and facilities for enterprises  fortunate enough to be in sectors that bureaucrats consider worthy of encouragement; in other words, industries that are more economically viable somewhere else.  Just as Cyberport is trying to incubate a cluster of fancy creative companies with cheap offices and access to a digital media suite, the Science Park is offering a special Biotech Centre in which, we are told, start-ups can be nurtured to venture-capital stage.  Biotech research in Hong Kong: it's as likely as Scotch Whisky distilleries in Riyadh.  Or the pro-democrats being productive.
The hallmark of a publicity campaign by a Hong Kong public-sector organization is the photograph of workers awkwardly posed to look like they are having just another buzzing day toiling away at their many important tasks.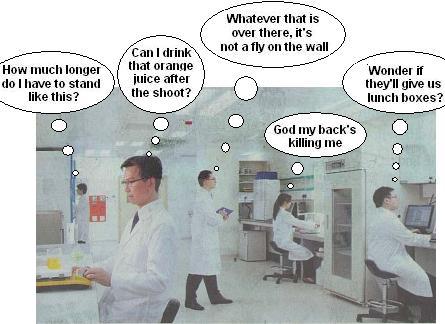 Couldn't they just take a surreptitious snap with a hidden camera and get a more natural portrayal of them all hard at work?
There's a naïve question.