Users of the Mid-Levels Escalator should be warned about the organization behind the touching banner hanging from a building in Cochrane Street asking people to give shelter to mendicant rabbits.  Although friendly and welcoming on the surface, this supposedly charitable group has a nasty, intolerant and hostile side.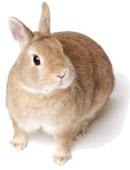 My first visit to the sanctuary for distressed rodents was a success.  No sooner had I announced that I would like to adopt a bunny than the volunteer workers gave me a lovely, bouncy animal – one 'Flopsy' – complete with a cage and enough food to keep it happy for several days.  Very pleased with it, I went back a week later to adopt another, and they were delighted to give me a particularly fluffy one, called Bo-Bo.  When I returned for a third a few days later, they were decidedly cooler and asked me questions about the size of my apartment, before they agreed to give me an intelligent-faced and plump specimen, A-Mei, that caught my eye.
However, my fourth visit this morning turns out to be altogether less pleasant – indeed, as soon as I walk through the door one member of staff runs between me and the creatures' compound and stands guard with a baseball bat.  Apparently, they had followed me after I left last time with A-Mei bundled under my arm and watched me cross over to Graham Street market to adopt some onions, celery, carrots and potatoes, and go into 7-Eleven for a half-bottle of cheap red wine.  On the grounds of such paltry, circumstantial evidence, I am now banished from the premises.
Now I need to find a use for some spare sprigs of thyme.