A little ray of warm sunshine pierces the freezing grey drizzle, in the form of additional charges against Sun Hung Kai Properties' Thomas and Raymond Kwok in the corruption case involving former Chief Secretary Rafael Hui. The more, the merrier. After years of smug, blasé, condescending denials that any such thing as government-tycoon collusion could possibly exist, we – hopefully – get to find out at least a bit of the truth. It can't be humiliating enough.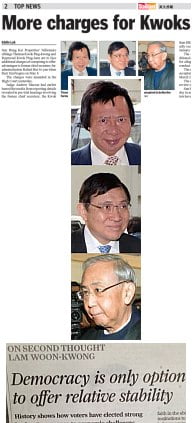 A SHKP boss, Thomas Chan, is also a defendant. And then there's the even more obscure 'fifth man', Francis Kwan Hung-sang. The papers usually describe him as a former HK Stock Exchange official, which he is. He has done a number of other things, as well.
He has recently been asking a lot of past and current, close and not-so-close acquaintances to write letters for him attesting to his character. You might think 'Eeeewwww', but this seems to be almost standard practice in Hong Kong; he says his defence counsel has advised him to do it. Along with helpful background info on helping the elderly, overseeing car-parking at his church, etc, he includes his resume. During the last seven or eight years he has been chairman of USP Enterprise, which markets AlcolOut – Hong Kong's number-one anti-hangover product (apparently). Which is… well, different. Probably a damn sight more socially useful than anything SHKP have ever done.
The trial won't open until May – and oh, how the days and weeks are going to drag as we wait for the fun to begin. To help pass the time, the South China Morning Post offers us a little column tucked away in the City section called 'On second thought' (should that be 'thoughts'?) by Executive Council member Lam Woon-kwong. In theory, Lam could have been another Rafael Hui, being an elite civil-service high-flier and all that. But he jumped ship for a cushier job at the Equal Opportunities Commission, where he blossomed as some sort of trendy, radical, liberal, cool sorta guy who's really into gay rights and ethnic minorities (they all do; it's something in the EOC tea).
Being sympathetic to the dispossessed, friendless and despised, he joined Chief Executive CY Leung's ExCo in 2012. In his column today he explains why Western-style democracy is the only way. There's nothing new in this (Lord Acton and legions of others have been here), but he spells it out neatly: liberal democracies' structures are designed on the assumption that leaders cannot be trusted (Hi Rafael!) – hence separation of powers, free elections, and so on, and nothing beats it.
Except, of course, this is absolute heresy to the Chinese Communist Party, which specifically rejects such thinking as alien and dangerous: a foreign weapon employed by those intent on destroying the motherland. This is why Hong Kong has 'executive-led government' with a rigged legislature and a loophole to let Beijing veto the Court of Final Appeal. It also implicitly contradicts the Hong Kong government's official line on political reform, which holds that a rigged nomination system is compatible with universal suffrage. It also goes against the interests of the SCMP's owner, because if Beijing's officials saw this, they would come round and give old man Kuok a big smack on the bottom (before proceeding to Tamar to drag Lam off to the Reprimand Centre).
We declare the weekend open with even greater weirdness, over the page in the SCMP's Lifestyle-Shoes-Hangover Cure section. A food writer makes some sort of allowance 'for those unsure about eating beans'… 
I'm a fan of legumes. Black-eyed peas, especially. And chickpeas. And big fat juicy fava beans. Indian dal; Philippine monggo. Starting to sound like WK Lam on democracy. But who on earth are 'those unsure about eating beans'? Does any such person exist, sitting there in trepidation, staring at a serving of, say, chili con carne, and wondering if those sinister smooth, oval-shape, reddish objects lurking in the stew are about to leap out of the bowl and ravage him? What are we coming to? If people are unsure about this, how do they deal with life's real difficulties? I mean…
Eternal Father, strong to save,
Whose arm hath bound the restless wave,
Who bidd'st the mighty ocean deep
Its own appointed limits keep;
Oh, hear us when we cry to Thee,
For those unsure about eating beans!