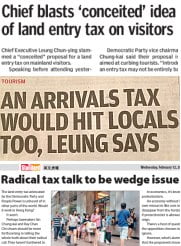 The People Power proposal to impose an entry tax on the hordes visiting Hong Kong may or may not be a dud from an administrative point of view. But it has hit a surprisingly raw nerve, with no less than Chief Executive CY Leung rushing to reject the idea. His haste, and his weak arguments against such a levy, bring to mind the panicky, fire-fighting mode of previous governments, notably that of Tung Chee-hwa, who spent most of his time in office in a bunker, besieged by unfolding events. CY is made of more stolid stuff, but it is interesting to see that if prodded by a sufficiently sharp stick in the right place, he will react.
What is it about the fringe radical rabble's cheap publicity-grabbing idea that so roused him? Any hint of animosity towards Mainland compatriots obviously offends his personal ethnic, cultural and of course political loyalties. And, being overly eager to prove his faithfulness to Beijing, he has to be seen to be so offended.
The issue of cross-border mass-tourism offers CY an opportunity to side with the 'not-boycotting-him' developer-landlords-retailers-parasite sector who benefit from the influx of visitors even more than they dislike him. But he is probably more concerned about kowtowing to the emperor than to the local feudal aristocrats. In 2003-04, in the wake of SARS, leading Hong Kong figures begged and pleaded with Beijing to allow millions of residents of wealthier Mainland cities to visit Hong Kong on an individual multiple-entry basis. CY himself could easily have been involved in the lobbying. They probably stressed that such a measure would go down well and earn the Chinese government the affection of the Hong Kong public. The idea of admitting the 'gift' is an ongoing disaster, and going back and asking Beijing to reverse everything, doesn't appeal.
Then we have to ask whether, or to what extent, the cross-border visitor phenomenon has become a part of a deliberate initiative by China to integrate and tame a reluctant Hong Kong by swamping and 'Mainlandizing' the city. In other words, the fact that the tycoons make huge money out of it is just a coincidence. This is, of course, a conspiracy theory. But if you give people enough reasons to think a vast plot is afoot, they can only draw their own conclusions. For example…

Anyone who likes going to our country parks will have noticed that even our remote semi-wilderness is attracting a few Mainlanders (they seem to like the gazebo on the Disco Bay-Mui Wo trail, for example). We are now told that Lantau should be used for 'development' (which presumably means vast malls for

Mainlanders, plus underground caverns for Honkongers to live in), so we should use the Mainland's country parks instead. (We are also told that the Japan=Britain, China=Germany pre-World War I comparison is an absolute no-no. But the guy's name is Kaiser, almost – that's all I know.)
Look at past uprisings. On a scale of West Kowloon in 2005 at 4, National Education in 2012 at 6 and Article 23 in 2003 at 8, Mainland tourism so far looks like a 2 at best. The issue is a mish-mash, overlapping with things like housing shortages, bad planning and poor product safety over the border. Public frustration and anger are unfocussed, and there's no sign of cohesive leadership or active popular resistance, let alone the all-important abandonment of government by fair-weather friends. But Kaiser and friends seem determined to make it into the next Big One, anyway.
Meanwhile, following yesterday's shocking revelations that developer Sun Hung Kai is cutting prices at The Riva, Cheung Kong does the same at The Diva. Next up: Henderson Land slashes prices at The Biva, New World does it at The Liva, and Hang Lung follows at The Hiva. CK boss Justin Chiu explains that "developers are offering a wide range of discounts just to make home purchases easier amid soaring costs." Got it: it's not 'price cuts' it's 'making home purchases easier'.
If there were a psychopath among us, he would be really confused by now about who to beat to death – the cross-border shopper with 10 boxes of Yakult, the surveyor telling us to picnic henceforth in Hubei, or a lie-spewing property developer. Then along comes one Barton Lui. At a cost of HK$1 million in taxpayers' money, he has been to the wretched-sounding Winter Olympics in the hitherto unheard-of Sochi, where he took part in a new sport called 'skating in tight pants with hands clasped behind back while leaning forwards and thinking very hard about something' (and lost, obviously). He's whining about how we didn't provide him with a personal doctor. So our psycho picks up the baseball bat and goes over to Ginger-Haired Lip-Gloss-and-Lycra Boy, and who does he find but Hong Kong Olympic Buffoon-Scion Timothy Fok? Where to start? It's enough to send a psycho nuts.