For 10 days or so we have seen some stomach-churning pictures of Indonesian domestic helper Erwiana Sulistyaningsih's injuries, allegedly meted out by her Hong Kong employer, Lo Wan-tung. Getty Images captures something relatively cheering: overseas maids yesterday giving Lo a warm welcome back to her neighbourhood, shackled and hooded and in the company of police searching her apartment…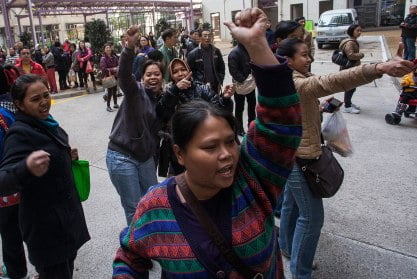 If it were Erwiana's word against Lo's, there might be at least a sliver of possibility that the burns and bruises were the result of self-harm or a visit from loan
sharks. But at least one previous employee has come forward with horror stories of a sadistic woman who sees herself as Guanyin, the Chinese-Buddhist Goddess of Mercy. The Standard piece says Lo is a Mainlander married to a guy in the 'securities industry' (a broker?) who is 'seldom at home'; she has graduated from public housing in Wong Tai Sin to the oh-so classy private residential estates of Tseung Kwan O. Amateur psychiatrists – or maybe her defence counsel – might build up a profile of an insecure, neglected and embittered woman becoming delusional and unhinged.
Even the least canine-friendly among us couldn't do these things to a dog; what sort of mind is it whose owner can inflict physical pain and damage on a fellow, innocent person, and repeat it day after day? We would like to think one that itself is so tortured that it is extremely rare, if not unique. Except then we recall the case of Kartika Puspitasari, whose employers were imprisoned last September for broadly similar sadism towards their Indonesian maid. We can safely assume that this degree of abuse is unusual (I mean, how does beating your amah black and blue improve the quality of cooking and cleaning in your home?). But they can't be the only ones out there whose need to exert control and superiority is so overwhelming that they can't relate to other people as human and gain some sort of satisfaction or relief from being plain cruel.
We are probably talking about what I'll loosely term 'psychopaths', and perhaps the conditions that turn people into psychopaths, and possibly the role played in all this by social status, race, marital problems and the pressure-cooker nature of life for some in Hong Kong.
Instead, we are already seeing an almighty conflation of other issues, with migrant workers' groups producing lengthy wish-lists of changes in the law. Maybe the rules should be changed so maids can live out, or quit jobs without having to leave Hong Kong soon after; there's probably a good case for enforcing electronic payment of helpers' salaries in full, and for sorting out abuses by employment agencies that verge on loan-sharking, indentured labour and even human trafficking. But you can't regulate away the psychoses behind the daily barbarism going on in a few middle-class households.