Most developed economies' governments are up to their ears in debt, even after offsetting their assets against their borrowings. Japan's government, for example, owes a gross amount equivalent of over 200% of GDP, which still comes out at over 100% of GDP on a net basis. The Japanese people could freak out and wet themselves, especially as they have one of those oh-so scary aging populations. But they are pretty laid back, if not downright uppity – boosting defence spending and irritating friends and foes alike by visiting war shrines and killing dolphins. One reason is that if you net out household debt in a similar fashion and add it all together, the country is still sitting on considerable real net wealth. Most economies are. (Lots of data on this here.)
A few economies are in the happy position of having a government, as well as households, with far more assets than debt – like Norway or Qatar. Hong Kong is also in this position: the government is sitting on fiscal reserves and other assets totaling over HK$400,000 per household. So in theory, we can be ultra-relaxed. Provided we don't dive headlong into open-ended universal entitlements, and we encourage the better-off to contribute what they can afford, we have decades of retirement, health-care and coverage against poverty ahead of us, already saved up. The South China Morning Post has done a rough costing of one option.
The expansion in welfare benefits for the poor in Chief Executive CY Leung's recent policy address should be seen in this context. You can debate whether the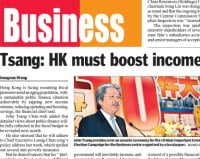 family allowance system's design might distort people's willingness to work or whatever. But in terms of cost, it's doable, and no big deal. And yet Financial Secretary John Tsang bleats day after day about mounting fiscal pressures, the need for new taxes (or 'revenue streams', as he calls them), and the sky falling in because people are healthier and – horror! – living longer.
We end up playing the same game as yesterday, when the inexplicably stupid official announcement we are invited to take seriously was 'We will and must have 100 million tourists a year'. The rules are unchanged: explain why this idiot – who gave HK$6,000 to each and every one of us a couple of years back – is spouting such obvious crap.
The quick answer is that he is, simply, an idiot. "It sufficeth me, thou art," as Thersites replies when Patroclus asks why he is included in a list of fools in Troilus and Cressida. Fans of Occam's Razor would leave it there.
But there are plenty of other explanations. Maybe he thinks the rest of us are idiots, and he wants to stash our wealth away for some evil reason. Maybe Beijing wants our HK$1.5 trillion as a nest-egg in 2048; maybe the bureaucrats see it as the untouchable guarantee of their own bloated pensions in years to come; maybe the tycoons are plotting to expropriate it in the form of pointless giant infrastructure projects.
We do know that the bureaucrat-tycoon establishment that ran Hong Kong under Donald Tsang in 2005-2012 was obsessed with amassing reserves, minimizing recurrent expenditure and introducing a sales tax. Not just one of them, which you could describe as prudent. Not just two, which would look overly cautious. But all three. You must pay hidden taxes via your and your local shopkeepers' mortgage/rents, so we can stuff lots of your hard-earned cash ('windfalls') into the reserves. And we will do all we can to migrate you away from public healthcare so you pay extra for private insurance cover. And we want to slap an extra consumption tax on you on top of all that.
Maybe it's just rigid application of 1960s parsimonious, colonial small-government ideology, mindlessly continued by zombie-policymakers into an era of general prosperity and increasingly representative politics. Or maybe it's pure malevolence, and we are victims of the world's biggest, slowest-motion, ongoing mugging, by an unidentifiable assailant.
I would grudgingly lean towards the less conspiratorial, more idiot-zombie explanation. No-one's been able to get John Tsang and his smug, pompous bureaucrat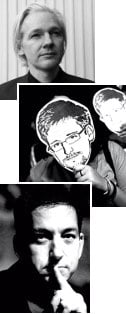 buddies to come down to earth and see this isn't a world of squatter camps, steaming nullahs and seven-day working weeks in plastic-flower factories any more.
People who prefer to see it as an active and elaborate evil plot (rather than act of omission/accidental arrangement) to enslave us all will be interested to learn that even the most saintly and heroic figures can turn out to be loathsome and sinful if you dig into their past. The trendy trinity of Wikileaks founder Julian Assange, Hong Kong's adopted refugee-whistleblower Edward Snowden and ex-Guardian journalist Glenn Greenwald are arguably a pretty unsavoury bunch: Assange being (no news, really) a messianic philandering paranoid; a youthful Snowden embracing extreme anti-welfare, pro-gold-standard, gun-nut wackiness; and Greenwald-as-lawyer defending neo-Nazis and racists. So much for (respectively) blond pretty boy, modest hipster-humanitarian-geek and nice noble gay writer. It all puts John Tsang – and the rest of this city – into perspective as, probably, basically harmless but too hung up about the wrong things.