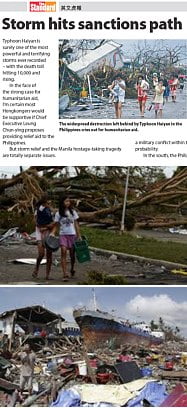 Adjusted for geographical scale, the Typhoon Haiyan death toll in the Philippines is reaching Indian Ocean Tsunami proportions, with reports of 10,000 dead, or 10,000 dead in one city, and bodies hanging from trees. In Hong Kong, Democratic Party legislator James To seems to suddenly drop his crusade to 'help' the families of the Manila bus shootings victims. Instead, he will be spending today 'helping' small investors who lost money after the 2008 collapse of Citic Pacific's share price after the princeling-conglomerate's disastrous foray into the Australian dollar through the insane semi-suicidal investment instrument known as an accumulator – or, 'I kill you later', as wits dubbed it. It is a long-running saga. James To's part in it seems to be bogged down in complaints about the system for handling complaints about corporate governance, but the issue still has its uses.
Others in Hong Kong are less squeamish. The Standard's 'Mary Ma' editorial defiantly declares that the thousands of bodies etc in Tacloban City are a separate issue from the Big Lychee's promises of vengeance for the bus tragedy. It also accepts, however, that we have an awkward contradiction on our hands. Threatening the Philippines with visa controls and other silliness at a time like this looks more obtuse and self-centred than ever.
Hong Kong has its own, little-known foreign-aid programme in the form of a disaster relief fund with a rubber-stamp advisory body stacked with pro-Beijing figures. Typhoon Haiyan is exactly what this fund was designed for. If the city pointedly abstains from donating official money on this occasion, it looks too callous and downright narcissistic for words. If the fund writes out a cheque (as it presumably will), it leaves the mouth-frothing xenophobes demanding collective punishment of Filipinos looking ridiculous, or at least – like James To – scrabbling for something else to do.
Seeking someone to blame for this logical (I don't think we can say 'moral') quandary, 'Mary Ma' goes a bit off-message. The last Chief Executive, Donald Tsang, treated the Filipinos with kid gloves out of deference to Beijing's policy at the time, which was to try to charm Southeast Asian barbarians into accepting China's claims to own the whole South China Sea. His successor, CY Leung, is acting tough in accordance with Beijing's own shift in stance to frighten the tributary states into submission. So, not only must the families of the Manila bus shooting victims be used as tools by the likes of James To, their cause is being picked up, cast aside or waved around, as the paranoid and insecure needs of China's foreign policy demand.
We now wait to hear from our self-appointed chief scourge of the Filipinos, lawmaker Regina Ip. Maybe she will demand 'no visas for people whose bodies are hanging from trees', or organize an emergency air-drop of dead dogs for Leyte. Or perhaps she will realize the typhoon's impact on rank opportunism and keep her head down.
On a personal note, I too am pondering the typhoon's far-reaching effects. My domestic helper's daughter recently had a few weeks off from her strict convent boarding school after the institution suffered slight damage in an earthquake. So my helper went down there so they could spend a week together. They are somewhere south of and, I think, inland from Bogo City, Cebu, where one report says 70-80% of homes' roofs were blown off. Best-case scenario is that I have to wash my own dishes for a few days longer than planned.