Hong Kong reporters' pack-of-baying-hyena-pups approach to news-gathering does not always travel well. Was it not then-President Jiang Zemin who chided them in Beijing for their naïve yapping back in 2000? Now they have run afoul of APEC officials in Bali, after aggressively questioning Philippine President Benigno Aquino, specifically demanding to know whether he apologizes for the hostage-taking and killing (by someone else, incidentally) of Hong Kong tourists in Manila back in 2010.
People in the Big Lychee have never been able to comprehend that this tragedy was just one in many thousands that unfortunately happen on our chaotic planet every year, nor that the almost comic incompetence of the local police was pretty much standard for parts of Southeast Asia, and indeed in other less-developed nations. Perhaps it was out of regional and cultural solidarity that the Indonesian authorities have detained Hong Kong pressmen for a stern lecture on Asian values, or some such. The journos are of course accusing all concerned of infringing freedom of the press. So far as we can see, no other countries' media workers
covering the exciting and terribly important international conference have faced similar action.
On the subject of the Philippines' capital city, it is now cheaper to buy fancy brand-name jeans there than in Hong Kong – despite the fact that the former has heavy import/sales taxes and the latter has none. The reason, of course: our sky-high rents (Levi's are set to pay HK$388,000 a month for 731 sq ft in beautiful downtown Mongkok.)
Does this mean the designer-label-crap-retailing boom is finally approaching its peak? Or does it mean yet further encroachment of the cancer-like shopping-paradise-curse into those remaining neighbourhoods (the names of which I won't divulge here) where some stores still sell affordable basics to local residents?
There is a way to tilt the balance in favour of what is right and just, and that is for Hong Kong to impose its own 20% (or whatever) sales taxes on luxury tat. To the extent the tourists continue to pour in and buy this junk, the public purse will get some of the cash currently cascading into landlords' pockets; this can then be sent out to the rest of us as an annual Visitor Nuisance Compensation payment. To the extent that the tourist pestilence goes to some other fab, glitzy retail destination, we can all breathe a huge sigh of relief.
Admirers of all this understated-but-frankly-still-ugly fashion on sale everywhere will enjoy the heavy, glossy, full-colour tome-insert that came with today's South China Morning Post, in Escalator-Land at least. And went into the bin, obviously. But not before a quick flick-through to see who counts as 'Women of Our Time' – a desperate peg on which to hang ads for the usual watches, necklaces and grotesque shoes.
Actress Carina Lau, last heard of suffering a nasty bout of Triad-induced-nude-photos syndrome, gets in there for her success as a globally respected thespian. Pansy Ho, adoring daughter of ever-youthful casino magnate Stanley, makes it onto the list for 'learning to lead at an early age'. Basically, it's Rich Women Wearing Loud Stuff and/or Too Many Pearls, with a token scientist or film-maker thrown in to add a few brain cells to the overall ambience (we'll skip the plastic-surgery disasters). Plus Jing Ulrich, a name that seems to crop up all over the place – or at least sticks in the mind in a Sino-Teutonic sort of way. She is introduced as a China expert, though the main photo suggests proficiency in the field of furniture as much as ceramics. Anyway, the SCMP must really hate her, maliciously choosing an unflattering picture of her in the company of un-photogenic mutant life-forms that could only say to me…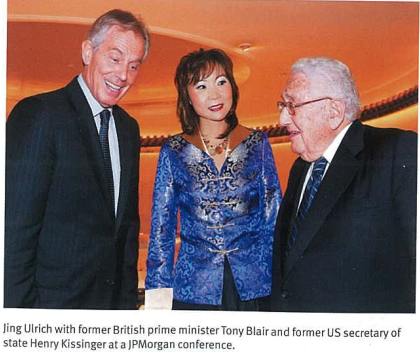 …the bar scene from Star Wars.