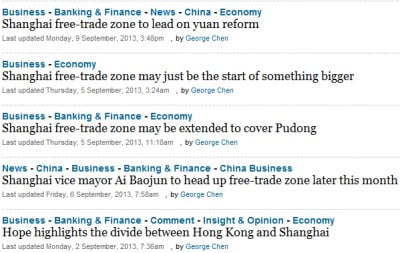 'HK Fightback urged as new zones blunt edge' screams the front page of the South China Morning Post's business section. This story appears several times a week,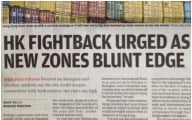 often appearing on the front of the main part of the paper. Mainland officials in this or that city are delineating and designating little-used areas as 'special' in some way, and suddenly transforming them into imminent, vibrant economic hubs that will compete with and undermine Hong Kong.
Writers Enoch Yiu and George Chen in particular seem to devote their efforts to churning out variations on this unquestioning theme. Anyone with an ounce of critical-thinking capacity knows it is total or at least 95% bullshit; among other things, the stock prices of Hong Kong-listed companies vulnerable to the supposed new competition would collapse if these magic hubs were real (or they would leap at the prospect of new opportunities).
So why do they keep writing this stuff? Or, more to the point, why does the SCMP's correctness-enforcement department tell them to do it? Is it to shoe-shine the local authorities in Shanghai or Qianhai (or Hengqin, or Nansha, or Tianjin, or the Lok Ma Chau Loop, etc, etc)? If so, to what end? Or is it the 'pre-emptive cringe' at work – pretending to take the silliness seriously for fear of what might happen if you don't? Or is to support Beijing's long-running campaign to intimidate Hong Kong into harmonious obedience by insisting that we are in danger of being marginalized/left behind/overtaken by some zoom-zoom emerging municipal superpower where aunts scoop their nephews' eyes out and Twitterers in prison garb denounce themselves on TV?
Turn to the back page of the business section, and the plot thickens. The Monitor column flatly contrad

icts the rest of the newspaper's glowing coverage of Mainland cities' endless special-economic-financial-free-trade-hub-zones, pointing out, in effect, that even if Beijing wants to liberalize its capital controls, there is no reason to mark out patches of suburban wasteland in which to do it. The column goes further and pretty much dismisses the miracle-zones as no more than property scams, luring developers into paying high prices for plots within the hub boundaries. This reaches new heights of cynicism; hard-headed, objective observers have hitherto assumed that the Mainland local officials concerned, envious at Hong Kong's freedom from communist-style currency restrictions, were angling for the regulatory equivalent of a free lunch, and possibly eying some personal benefits if – by some remote chance – their wishes were granted. But looking at it this way, the simpler, baser 'land-price-ramping' explanation sounds all too probable.
No doubt Enoch Yiu or George Chen will be back before the week is out, with mindbreathless expressions of wonderment at the threat posed to the Big Lychee by the latest Mainland super-special-whizz-bang-hub-zone.