Are these people mentally diseased? Hong Kong, they say, must double the number of hotel rooms in the next 10 years in order to accommodate the rising number of tourists. Here's a better idea: how about not building more hotels and not accommodating more tourists?
To everyone's great relief, grinning fraudster Tony/Peter Chan has finally been found guilty of forging tycoon Nina Wang's will. But a far bigger scam is taking place all around us. Evil, grasping bloodsuckers are trying to con 7 million innocent people into thinking that a bloated and still-expanding tourism industry is good for them.
If you draw a graph of annual tourist numbers in Hong Kong in the last 10 years, it would look something like this…
Draw a graph showing median household incomes, and it looks something like this…
The numbers are rough guesstimates from memory, but the key thing is the basic pattern: visitor numbers have doubled or trebled, while people's earnings have barely risen. All that money we are told tourists bring into Hong Kong mysteriously doesn't end up in our pockets. Rather than 'create jobs', tourism at best displaces existing ones. Rather than develop the economy, tourism crowds out other activities, reducing opportunities for those of us who aren't landlords or designer-label retailers. Indeed, if you put a price on the hidden costs from increased crowding, traffic, rents and frustration, this parasite industry is probably eating into – reducing – many or most people's wealth.
A reporter yesterday asked Chief Executive CY Leung a garbled question that hinted at the possibility that tourism harms residents. CY replied with the predictable blather about striking a balance. But why should there be any balance at all? If tourism damages the vast majority of the population's interests, stamp it out.
We all know why the interests of property and retail players outweigh everyone else's well-being. People like the Economic Development Commission's Jack So see Hong Kong's future as a sprawling airport terminal, with nothing but endless rows of glossy international outlets in which local menials sell overpriced branded junk to a constant stream of visitors passing through. It's already happened to Macau.
One hope is that at some point the Chinese government will lift the heavy import and sales taxes it imposes on luxury goods. When this happens, millions of Mainlanders desperate to buy tawdry designer-label bling will no longer have a financial incentive to come to Hong Kong to get it. It can't happen too soon.
The EDC's Working Group on Convention and Exhibition Industries and Tourism would disagree, of course. It is packed with industry figures, especially from the conference and hospitality side. The cross-subsidies and hidden social costs surrounding things like international conferences at the HK Convention and Exhibition Centre are complex, but you can be sure that you are being inconvenienced – including financially – to keep bores in suits flooding into town for idiotic MICE events to benefit no-one but the sacred tourism sector.
For a more down-to-earth illustration, consider Lan Kwai Fong. The bar district's main landlord (who, like the HKCEC boss, is on the Working Group) gets rich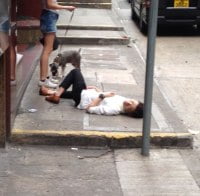 selling overpriced booze to tourists (and locals – but that's not the point). When I pass by some mornings, I see piles of cigarette butts, bottles, broken glass, vomit, the occasional body (this one on the right was a month ago*) and other dirty and dangerous stuff left by the previous night's revelers. The Nepalese street sweepers come at around 7.30am to clean it up. One guy makes all the money, while the rest of us pay for the mess.
That's basically the tourism industry. I declare the weekend open with the thought that we would be better off with a hundred Tony Chans at liberty.
*Yes, we did feed it to the dog.