Like every other city in Mainland China, Shanghai is going to have a Special Magic Economic Zone (in addition to its existing ones).  The creation of districts where the usual laws and regulations don't apply is by definition an admission that you can't compete with Hong Kong, but no – an unquestioning press can't stop itself from reporting that this latest contrived hub might 'take over from the Big Lychee', like all the rest were supposed to.
Our media show a similar gullibility over the news that the government is turning down Henderson Land boss Lee Shau-kee's offer to donate land for affordable housing. No doubt the ranting octogenarian tycoon, with his genetically engineered triplet grandsons, is at best engaged in a cynical PR gimmick and at worst plotting developer-official-collusion-scam #2,931. But it seems likely that part of the problem was the old man's condition that no land premium be payable. The obvious question here is: why, when homes are unaffordable, does the government insist on slapping a huge upfront tax on them? Sift through today's news stories and commentary on Fourth Uncle's offer, and it seems no-one thinks to ask.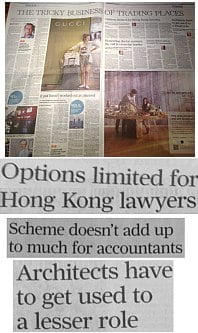 One of the biggest instances of the news media's inability to ask obvious questions must be CEPA, the Closer Economic Partnership Arrangement, the 10th anniversary of which the South China Morning Post is celebrating with a two-part extravaganza. CEPA was an elaborate PR stunt designed to make Hongkongers think Beijing was coming to the rescue in the wake of the SARS epidemic in 2003. Civil servants on both sides of the border drew up a vast list (still going) of supposed favours and concessions for each other's industries. For example, Hong Kong exports of (say) scrap metal to the Mainland would be subject to a 0% instead of a 10% tariff. Some mugs called it a free-trade agreement, but for the highly protected Mainland to open its doors to free-port Hong Kong would mean opening its market to the whole world. Officials subsequently reported billions of dollars of trade 'under the auspices of CEPA', but it would have taken place regardless.
CEPA was a joke because Hong Kong has virtually no local manufacturing industry. So bureaucrats then attempted to incorporate services into the 'arrangement'. Mainland interests naturally opposed competition from the Big Lychee's world-class (honest) professionals, so the net result was continued barriers in those sectors. As the SCMP's headlines show, Hong Kong lawyers, architects and other billable-hours freaks have never stopped whining about it.
In a last-ditch attempt to introduce substance into the hollow shell, officials took the totally separate scheme to allow solo Mainland visitors into Hong Kong and slapped the CEPA label on it. The liberalization of Mainland outbound tourism was nothing to do with SARS or even specifically Hong Kong; Thailand, Malaysia – and today even Europe and elsewhere – were all part of the gradual process. Nonetheless, commentators in the media swallowed it and saw the 'individual visitor' scheme as proof that CEPA was real.
And beneficial. Except, now in 2013, the influx of Mainland tourists has so distorted our retail sector and rentals, and so swamped our transport systems and physical space, that it has become a disaster to ordinary Hongkongers' quality of life and to China's attempts to win local hearts and minds.
So, as the SCMP won't put it: happy 10th anniversary, total-absurdity-and-waste-of-space CEPA.