After the 2011 Japanese earthquake and tsunami, several apparently educated people I know stopped eating fish. Their logic was as follows: hundreds of residents of areas like Sendai had been swept out to sea and drowned; fish live in the sea and somehow or other consume bits of dead animal matter; therefore if you ate fish at that time, you would be eating dead Japanese people.
I told them (guessing) our seafood doesn't come from anywhere near those Northwest Pacific waters. I told them all the oceans at times must have human remains in them (Osama Bin Laden would become some soon after). I told them we are all carbon-based life-forms, living off the food chain that starts with carcasses, bacteria and worms, and statistically we all probably contain a few atoms of what used to be, say, Shakespeare and/or Confucius, not to mention long-extinct giant slugs and carnivorous ferns. I even ventured to suggest something like, "What's wrong with eating a little bit of Japanese person now and then?" All to no avail.
Perhaps it is simply more fun to freak out about mysticism and nonsense than to calmly accept basic science. Certainly, the international media seem to think so, happily picking up on Apple Daily's expose about a Hong Kong branch of Starbucks making its coffee out of… 'toilet water'.
The very phrase conveys disgusting images. Ricky the trainee barista crouches down by the porcelain bowl, scooping God-knows-what out of the pan – and what's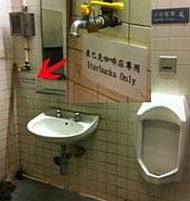 the betting he didn't even flush it first. Doubly revolting (actually, impracticable) when you recall than many areas in Hong Kong have a separate flushing-water supply piped in from the sea, so it would be salty, not to say full of bits of tsunami victims.
So, obviously, that is not what was happening. The Bank of China branch of Starbucks was drawing plain potable water from a regular tap in a restroom. Yes, there is a urinal nearby. No, the two are not connected by any plumbing. If you would be too squeamish to fill a water bottle here, you have led an overprotected life and could use a bit of therapy. After trundling the stuff back to the serving area, Starbucks filtered it. And, needless to say, they would have boiled it – because that's how you make coffee. It's safe.
The South China Morning Post quotes a Hong Kong University expert who points out that there is a risk of pathogens being transferred from the restroom to the food preparation area. Which is true. But, being carbon-based life-forms that excrete waste products, Starbucks staff, like the customers, will inevitably go to restrooms several times a day anyway, and – on pain of being fired – will no doubt wash their hands, etc, each time, right?
Predictably, the company's managers instantly turn into complete wimps and start groveling to the press and public about being sorry and how from now on they will use only special, hyper-expensive, pure, distilled water specially flown in by Boeing 747 from an exotic, endangered glacier in Hawaii. It is a pathetic sight: a vast global brand letting itself be pushed around by a scientifically illiterate, panic-prone commentariat.
The big boss of Starbucks could have been photographed drinking from the infamous tap and letting his infant children sip from the same cup. He would then declare that his company targeted only educated and rational customers, not riffraff who wet themselves about nothing. "If you're so stupid that you think this water is dangerous," he would say, "you're uncool, and we don't want you as a customer. Go to Pacific Whatsit where all the losers hang out." What a wasted opportunity to have some real, manly, forthright PR that enables a company to manage events rather than vice-versa.