A slightly tiresome, make-believe game of chicken plays itself out in the battle between the Hong Kong government and radical legislators filibustering the 2013-14 Budget. According to Financial Secretary John Tsang, failure to pass the bill on Wednesday could cause disruptions to welfare payments, health care, education, the courts and, of all things, electricity subsidies. It is an interesting list of items, carefully chosen to include something to affect most of us. Pro-establishment lawmakers parrot the official 'fiscal cliff' Armageddon line, while the radicals make the dubious claim that any forced cuts will be the government's fault for not meeting their demands for a universal pension.
The pro-establishment camp demands that Legislative Council President Tsang Yok-sing uses parliamentary devices fair or foul to curtail the delaying tactics. The more moderate pro-democracy legislators insist on the sanctity of the legislative branch's rights and liberties to check the executive. Tsang Yok-sing, though as pro-Beijing as they come, is reluctant to damage the Council's powers (the Legco presidency has a funny effect on people).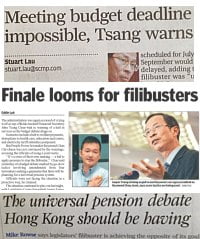 The government might be tempted to cut off handouts to starving widows and orphans, switch off kidney patients' dialysis machines and turn kids away from exam halls, in the hope that an angry population would take it out on Long Hair Leung Kwok-hung and his comrades. But to the extent that people would find it hard to believe serious cuts in day-to-day public services were necessary, it would be officials who would get the blame for playing politics at the community's expense. So the government should blink first. But since it can't meet the radicals' demands, it can blink all it wants, to no avail. Perhaps we are just heading for some dull compromise – a few obscure bits of the bureaucracy closing for a day, and a vague official promise to rethink welfare for the elderly.
Former civil servant Mike Rowse proposes a HK$6,000-per-month universal pension in today's South China Morning Post. Unlike the HK$3,000 plan put forward by an alliance of welfare and other groups last year, it might actually be enough for the indigent to live on. However, the idea is still flawed.
First, experience overseas shows that politicians like to increase entitlements but not the taxes that pay for them, with the inevitable result being government bankruptcy. At some point, the US, Japan, Europe, etc will have no choice but to abandon or drastically scale down the universal entitlement model. It's simple arithmetic. (There are theoretical systems like the negative income tax, which put everyone on a lifelong state pension and take it from there. The days when Hong Kong – or Long Hair, perhaps – was that cutting-edge are sadly gone, if they ever existed.)
Second, Hong Kong's demographics suggest a temporary, rather than perpetually growing, problem with old-age poverty. Future generations of retirees will have enjoyed far better levels of education, earnings and opportunities to save than those born and raised in the chaos of the 1920s-40s. We do need to transfer more wealth from rich young to poor old at the moment (as Chief Executive CY Leung conceded by doubling the Old Age Allowance), but that's not a permanent state of affairs.
Mike Rowse, the Alliance for Universal Pension and many others have a hang-up about the concept of means-testing. Traditionally, Hong Kong bureaucrats have taken sadistic delight in making welfare application humiliating, but it doesn't have to be so (as CY's reform shows). The alternative to form-filling and verification is, on a net basis, subsidy of the rich(er) by the poor(er).
Having said all this, there are some intriguing unknowns and contradictions here, because our politicians and bureaucrats compartmentalize everything beyond recognition. For example, elderly welfare, a sales tax and health financing are all considered entirely separate subjects when they're All The Same Thing.  So, it could be that the middle-aged middle class will be able to pay for their own retirement provided property prices don't crash, while the young middle class won't be able to pay for their own retirement unless property prices do crash. The people who got us into this mess are the ones on the biggest pensions of all.
Update: the filibuster is put out of its misery.