A couple of surveys show that the majority of Hong Kong people believe the 1,200-strong Election Committee, which formally chooses the city's Chief Executive, is not representative of the population. The shock here is that a significant minority (28-40%) seem to imagine that the rubber-stamp body does somehow reflect the community.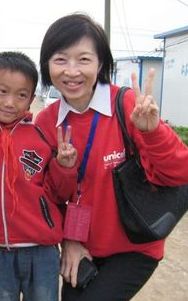 Civil Servant-turned-National People's Congress deputy Fanny Law is among them. (Actually, as someone with sufficient intelligence to get into the administrative stream of the civil service, she probably isn't. But as a true pro-Beijing convert she has to claim to be.) The current EC is representative, she reads from the official script, because it involves 'balanced participation'.
We haven't heard this phrase for a while, but perhaps it is about to make a come-back. It was popular at one stage among defenders of the functional constituencies who argued that a system that represents only citizens as individuals, rather than group interests like business as well, is imbalanced. By which they mean exploitative and privileged minorities are outnumbered.
There is plenty here for pro-democrats to get their teeth into: Fanny is in effect supporting a system designed to allow property tycoons and their cartels to rip off the broader community. But no, the pan-dems have to blather on about abstract, academic tedium that numbs the minds of the rest of the population. Benny Tai of Occupy Central fame counters by complaining that the electorate that chooses the Election Committee comprises only 200,000 voters.
That's 10,000 times what you need. Grab 20 passengers from the top deck of a tram and a couple of taxis and you've got a pretty fair sample of Hong Kong. The number is irrelevant; the issue is how you select them. Lots of us are qualified to vote in an Election Committee subsector (register now!), but there is no point in actually doing so: the process is minutely rigged. For every participant who is a normal tram/taxi passenger, there will be one fishermen's association boss whose members are dependent on state handouts, one religiously devout adherent of the Communist faith from birth, one grasping businessman who colludes with his rivals and has Mainland investments, and one shoe-shiner on the make with a name like Bunny – or Fanny, come to think of it. You could have 7 million people vote this way via 'various sectors' and still come up with a body that rubber-stamps Beijing's decision.
Accepting that the Chief Executive candidates in 2017 must, under the Basic Law, be nominated by a 'broadly representative' committee, the pro-democrats propose a one-man-one-vote method to select that body. By this, they mean something without the sectors, corporate votes and other gerrymandering. Under such a purely and direct democratic system, the first round of voting – for the nomination committee – would be superfluous. The pro-Beijing camp will indeed be able to portray it as illogical, before going on to recite the mantra: even the US has its Electoral College that allows the guy with the fewer popular votes to become President, and the UK has a parliamentary system that lets a party with a minority of popular votes to form the government, blah, blah, blah.
The reality is surely that the Basic Law – or the Chinese Communist Party, to be exact – requires some sort of filtering system. What it does not necessarily require is a filtering system that results in a Chief Executive who primarily serves property tycoons. Demand a nomination committee that screens out such people, who are no less injurious to Hong Kong as any CIA/KMT stooge, and you will get every tram/taxi/MTR/ferry passenger jumping up and down in agreement with you. Sadly, the pro-dem establishment are themselves no more 'broadly representative' of the community than Fanny and her buddies.