Many, many years ago, the US Senate established a Select Committee on Presidential Campaign Activities. Over several months in 1973, the inquiry found that President Richard Nixon's aides had used various illegal methods to – in effect – cheat in his re-election bid in 1972. The thing became a live TV attraction as more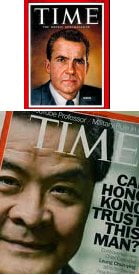 and more lurid details were uncovered. Eventually, dozens of people were convicted of burglary, conspiracy and other crimes, and Nixon resigned after the House of Representatives started the process of impeaching him. The perverse thing about it all was that he would have won by a landslide anyway without breaking the law (only one state voted for McGovern, prompting 'Don't blame me, I'm from Massachusetts' bumper stickers).
Now, Hong Kong is to get its own Watergate hearings as Chief Executive CY Leung agrees to face Legislative Council questioning over the infamous unauthorized building works at his home on the Peak. The House Committee's questioning will probably not dwell on the illicit car port roof and garden trellis as such. Lots of people's homes have such features; it is not a crime, but a side-effect of absurd building codes; there is no victim. Instead, lawmakers will (or should) want to know two things.
First, whether CY was aware that he had illegal structures of his own when, during the CE campaign at the beginning of this year, he leapt on his opponent Henry Tang for having an enormous, illicit luxury basement in his home. This would of course be hypocrisy, which would in turn make it stupidity, even allowing for the fact that there is no comparison between Henry's basement, which possibly involves criminal offences, and the Leungs' home improvements, which would probably not need permission in most sane jurisdictions.
Second, whether CY subsequently lied about knowing that his property had these UBWs. To his pro-dem opponents, if the first is true, the second must also be, and Leung is therefore a scoundrel of the first order, not to be trusted – in addition to being a closet Communist Party member – and not fit to be in office. Their position is that any falsehood about any subject is equally evil: number of socks in drawer, existence of garden ornament, child molestation, cannibalism – all the same. CY's pro-tycoon detractors will be enjoying the show and possibly fantasizing about Long Hair bringing him down and Beijing putting a developer-worshiping dimwit in his place.
Two examples of CY's behaviour should give us a hint: the blitheness with which he assured the public that he had no UBW issues, and the keenness with which he attacked Henry over the luxury basement. This suggests either that he is extremely reckless, gambling on not getting caught red-handed at a time of great mud-slinging and media muckraking, or that he was genuinely oblivious about the status of his trellis and car port roof – indeed, probably never even thought about them at all. If I had a trellis, I wouldn't think about it much. (Maybe I do have one…)
It would be amusing if he were to answer what could be some seriously inane questions ('on what date did you become aware that your trellis did not conform to Building Department regulations?') with references to things that matter ('that might have been the day I asked Christine Loh about ways to reduce the damage pollution is doing to children's health, or maybe it was the day I met with advisors to discuss options for boosting welfare for the elderly'). Sadly, we are more likely to get hand-wringing contrition and humility for the sake of harmony and consensus. Beijing officials may well see this as an opportunity to allow pro-Henry elements to take a bit of revenge on CY as a reward for henceforth toeing the line. They will certainly want to make sure that the questioning doesn't uncover anything about the Liaison Office's murky role in the quasi-election.
Meanwhile, spurred on by legislator Emily Lau's outraged screeching, pro-democracy lawmakers with a sense of 1970s drama are earnestly preparing impeachment charges. The roadside air pollution index today is 'High'.