With so many injustices, scandals and horrors to rant about, do Hong Kong's pro-democracy legislators have room to squeeze in one more? If not, the mini-uproar over Executive Council member Franklin Lam may prove short-lived unless they ease up on some of their myriad other causes.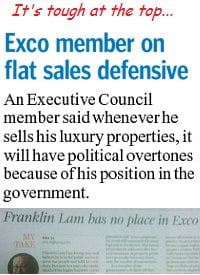 Like Leung Chun-ying, whom he supported for Chief Executive long before it became wise/briefly fashionable/compulsory, Lam made his zillions out of the Big Lychee's rigged and warped real-estate market. But, also like CY, he is not part of the developers' cabal. As a banker who specialized in equities analysis, he and his investor clients profited through his understanding of a twisted and damaging system that was not of his making. Trendy 'ethical' investment purists might think that hypocritical; the rest of us can only acknowledge the success represented by a portfolio of 25 properties.
As that declaration of interests shows in a hastily scribbled-in amendment, that number was until recently 27. The allegation is that he recently sold a couple of apartments to dodge the impact of the new stamp duty regime on property transactions. The timing tells you he wouldn't have known about the new measures. So do the facts that he left 25 unsold, and that he sits on ExCo and declares interests – assuming that he is not a total idiot.
Essentially retired, Lam's main hobby before ExCo was his sort-of think-tank, HKGolden50, introduced and examined exquisitely here. Although he profited from ex-CE Donald Tsang's deranged pro-developer/anti-people/anti-economy land strategy, Lam happily proposes the opposite approach: provide more space.
Specifically, he suggests big expansions in residential, commercial and other capacity in areas like Tung Chung. His mistake, in my humble opinion, is to assume that the Mainland influx is a permanent phenomenon that we must build to accommodate. My hunch is that the crush of 'locusts' will ease off when the Chinese government sorts out milk powder supplies and high luxury goods taxes, and the arbitrage effect vanishes (as arbitrage opportunities usually do). And while we're waiting for that to happen, a ration of one visit per three months for Shenzhen-ites, as a Mainland anti-smuggling measure, will do the trick.
On the subject of milk powder, pro-democrats in search of a more worthwhile target than Lam may be interested to know that a fight is brewing between the government and manufacturers of infant formula. Hong Kong has traditionally not heavily regulated quasi-medical industries like cosmetics/beauty and baby food, but this is now changing. Although 'consumer protection' can go to counter-productive lengths (and notwithstanding, also, the breast-feeding lobby's occasional rhetorical excesses), the administration's proposed code looks largely sensible; some might say it should go further.
The real scumbags here – and there comes a point where you really do wonder how low people will stoop to make a living – are the marketing and advertising creeps. Promotional materials for formula unashamedly suggest, in essence, that their brand is better than anything from Gerber, Nestle or mammary glands, because drinking it will guarantee that your kid's IQ doubles and he or she will become a high-flying lawyer with a PhD from Harvard and a Nobel prize for piano-playing, by age 10.
Our officials want the ads to be 'scientific and factual'. It's all here. The industry is of course as outraged as a property developer having to give an accurate apartment size. The pro-dems, mindful of that thing about my enemy's enemy, will presumably rave about something else.