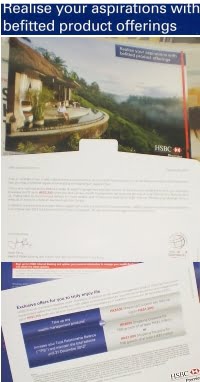 Morning in the resplendent entrance lobby of Perpetual Opulence Mansions, and a Nepalese security guard drags the lifeless body of a Jehovah's Witness across the shiny Italian marble floor, out of the door and in the direction of the Municipal Solid Waste Transfer Station down on the next street. I reach into my mailbox and retrieve a pristine white envelope. It has that faint but exquisite, indeed erotic, sweet aroma of crisp, newly issued banknotes straight out of an ATM or laisee packet.
As I glide down the Mid-Levels Escalator towards Central, I open it up to find a glossy leaflet featuring an aphorism – and not just any saying, but a pithy teaching of almost Confucian wisdom from HSBC. It says: "Realise your aspirations with befitted product offerings."
Of course, some less advantaged people out there can only ever dream of befitted product offerings. But those of us who qualify for an HSBC Premier® account are accustomed to them. To get an idea of what sort of privileged class of individuals we are talking about here, look no further than the HSBC brochure. A handsome man in shorts sits outside an understated but luxury villa overlooking a steaming jungle. His feet rest in expensively cooled water in which (look closely with a magnifying glass) little magic fish happily nibble away the dead skin on his heels and toes. He is pausing to look down into the dense tropical woodland, musing on its putrid rotting vegetation and unspeakably disgusting millipedes and other revolting creatures, before checking his laptop for the latest news on befitted product offerings…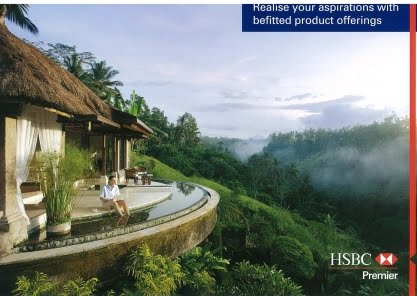 It is, of course, all an allegory. The hillside represents the mountain of wealth HSBC's elite customers are sitting on; the icky creepy-crawlies represent the horror that is Hong Kong's national shame; the mist drifting from the trees represents the hazy thinking of our government; and the maid you can't see doing the ironing in the luxury villa is a maid doing the ironing – and who will subsequently go to buy groceries to be paid for with Park N Shop coupons.
Which brings us rather elegantly to…

…the befitted product offerings in question. If you increase your Total Relationship Balance (that is, the amount of cash, investments or – intriguingly – loans in your HSBC account) by HK$3 million before 30 November and keep it there at least until 31 December, they will give you HK$1,800 in supermarket coupons. The idea is that I pull three million bucks from whatever other investments I may have – gold ETFs, a Discovery Bay golf cart or whatever – and park it in HSBC. Because that's how badly I want some Park N Shop coupons.
I shall now head into S-Meg Tower and dangle this befitted product offering in front of Ms Fang the hunter-killer secretary. She will drool with longing and lust for the HK$1,800 worth of Park N Shop coupons, and suffer extreme mental anguish at the thought that the company gwailo is turning his nose up at them. And this will bring the working week to just the amusing end that I hoped for.  Thus I realise my aspirations with befitted product offerings.