The Curse of Soho strikes candidate number 13 for the Legislative Council in Hong Kong Island, as a lone campaign worker struggles to erect banners beside the Mid-Levels Escalator…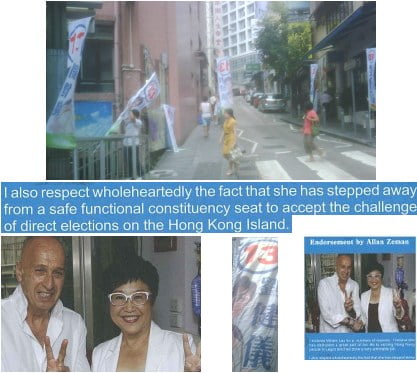 As the redoubtable she-dragon representing the Transport functional constituency, Miriam Lau did what you would expect a small-circle Liberal Party lawmaker to do: consistently oppose measures to reduce pollution from commercial vehicles and increase penalties for minibus and taxi drivers who kill others by speeding and jumping red lights. The equivalent now would be to promise all voters living between Caine Road and Lyndhurst Terrace that she will get them the legal right to dodge taxes and shoplift.
Landlord Allen Zeman endorses her courage in running for a democratically elected seat. Liberal Party boss James Tien is doing the same – not for the first time – in New Territories East (also with the number 13!). As a voting bloc in Legco, these people have spent years lobbying against anything that would increase business competition or promote consumers' interests. Now, realizing that Hong Kong is growing less appreciative of people who pander to vested interests, they hanker for the respectability and clout that comes with public approval and want your vote. Good luck with that.
By contrast, fronts for the Chinese Communist Party seem quite decent folk. In the geographical constituencies, candidates for the Democratic Alliance for the Betterment Etc of HK make a special point of pushing grassroots issues like bus services, building maintenance and school textbooks. In the District Council (second) Functional Constituency race, however – the five city-wide democratically elected 'super seats' – platforms will be less parochial.
The DAB's big hope for an extra seat here is youthful, photogenic, etc Starry Lee, deputy president and unofficial member of the Executive Council. To show how serious she is, she has sent out a leaflet aimed purely at an English-language audience. (I am presuming campaign workers went through the electoral rolls and plucked out all the visibly non-Chinese voters' names and addresses.) This is impressive enough as it is; most candidates, not without good reason, focus on Chinese materials. But so far as I can tell, this is no mere direct translation of something already sent out to the majority 95 percent of the electorate. It looks tailor-made for the ethnic vote…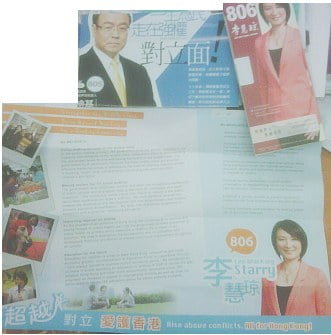 Essentially, it highlights Starry's commitment to focusing on the middle class, having a more diverse and fairer economic structure, improving air quality and pushing education, especially for ethnic minorities. In that order. These all appear in the DAB's platform, but most of them are buried way down there past all the promises about public housing and welfare handouts. The leaflet also has only very moderate DAB branding and largely ignores her four colleagues running on the same list.
In some parts of the US, you see drinks and snacks with 'extra sweet' on the label in Spanish. Manufacturers create separate recipes to cater for Latinos' fondness for sugar. The DAB seems to be doing something similar. They are already active among the Indian and Pakistani communities in Kowloon; now, blathering away about air pollution, they're even packaging Starry for the Westerner vote. Mainlandization comes in many forms and no-one's going to be immune.
With this sort of capacity behind her, Starry has a good chance of getting one of the five Super-Seats, though three or four other candidates are almost certain to come ahead of her. The person to vote for if she and her generous campaign funding don't appeal would be Frederick Fung of the less-than riveting Association for Democracy and People's Livelihood.
Some say that Chief Executive CY Leung has scrapped plans to attend the APEC conference, sending the Financial Secretary in his place, to pull a last-minute stunt to boost the pro-Beijing vote on Sunday. For what it's worth, the word is that any 'Hong Kong land for Hong Kong people' policy will be purely symbolic. It does seem that CY has sorted out a solution to the liberalization of travel to Hong Kong for migrant workers in Shenzhen and other big Mainland cities: the scheme will be postponed indefinitely, supposedly for further cross-border discussion – and that will be the last we hear of it for a very, very long time. Maybe he is going to announce a similar suspension of National Education, so we're not thinking of hunger strikers on Sunday? Or maybe we simply shouldn't underestimate CY's distaste for pointless time-wasting distractions. APEC and Financial Secretary John Tsang were made for each other.