The mood on the Mid-Levels Escalator this morning is one of unmitigated grief, with children, women and even grown men with gravelly voices and hairy chests sobbing quietly to themselves, if not wailing out loud and beating their breasts in despair. What could cause such woe?
Could it be the determination of our evil government to ram through its dastardly plan to brainwash our helpless and innocent children and force them to think independently and love the motherland, and learn from school student Chui Ting-wan who 'spends a lot of time with the national flag'? Amazingly, no it is not.
Could it be the imminence of the 2012 Grand Global International World Tiddlywinks Championship Extravaganza Celebrations Opening Ceremony in London, and its subsequent two weeks of purposeless and monotonous running round in circles and jumping into water? Oddly, it's not that either.
Could it be the probably-involuntary decision by Legislative Council members Chim Pui-chung and Timothy Fok not to run for re-election in their respective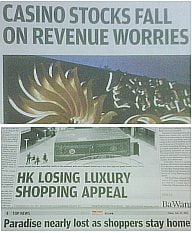 functional constituencies, stock brokers and sports/media/culture, after many, many, many years of selfless service to the community, thus freeing the rigged seats for pro-Beijing figures who actually turn up to vote? No, not even that.
No – our tears are flowing at the tragic news that Hong Kong's number-one position as a shopping paradise for Mainlanders is under threat as more are buying luxury goods at home. For years, we have been told that, were it not for the millions of cross-border – sorry, cross-boundary – visitors streaming through our streets and malls, the Big Lychee would be reduced to penury. How will we survive without rents at the old Lane Crawford premises on Queens Road going up from HK$5.5 million a month (H&M tatty clothes) to HK$11 million a month (Zara tatty clothes)? How will we eat without hundreds of tour buses clogging up our streets as they wait in line to pour yet more Mainland money into local real estate and gold? What will we do in the evenings with no advertisements in simplified characters to spray-paint '大69' on?
We are doomed. The weekend is hereby cancelled.