So what's been going on in my absence? On the financial front, I notice that Swire Pacific, the biggest single holding in my equities portfolio, fell some 18% suddenly last week. At the same time, the conglomerate spun off part of its Swire Properties real-estate business in a separate listing (with the rather retro-sounding trading code of 1972 – the date the unit was founded, I think).
To hear all the waffling among analysts beforehand, Swire Pacific was to be reduced to a hollowed-out shell retaining a mishmash of undesirable aviation, distribution and shipping assets, while the subsidiary landlord would be where all the action is. As it turns out, the valuation of the Swire Properties shares that have recently materialized in my portfolio accounts for the 18% drop almost perfectly. This is what you would expect, but it also raises the question: why bother? The holding company is somewhat diluted as a property play, but on balance I don't see an iota of extra (or reduced) value for shareholders. I guess we're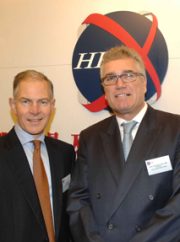 supposed to wait years for exciting results.
In fairness, the big Swire bosses look very pleased with themselves having added a fourth counter to their existing line-up of Swire Pac, Cathay Pacific and HAECO to the Hong Kong stock market. Maybe that was the point, in which case how can we not share in their joy, and indeed thank them for brightening up our lives during these gloomy times?
As a landlord, Swire benefits from the ongoing influx of Mainland tourists in Hong Kong. This same influx, of course, imposes a variety of unpleasant and damaging costs on the rest of the city's population and economy. From my point of view, this may seem Panglossian, serendipitous kismet – but it is all part of a carefully designed plan: if the invasion of Mainland 'locusts' continues, I earn higher dividends; if an outbreak of SARS or something drives them away, I have a nicer town to live in. The Big Lychee's government constantly blathers about 'win-win' situations, but this is the real thing.
While I was away, the Hong Kong-Mainland cultural clash – at least partly rooted in pressure on housing, hospitals, rents and babies' milk powder – grew in intensity. The Great Dolce & Gabbana Siege of 2012 was followed by the now-infamous YouTube video of Mainland scum dribbling noodles all over the floor of our pristine MTR trains, leaving noble Hongkongers with no choice but to push the emergency button to bring the full wrath of mass-transit justice upon the messy peasant invaders. Peking University's embarrassing Professor Kong Qingdong accused Hong Kong people of being running dogs of British colonialism, and the next thing we know, the culture war is world news. The Cantonese 'bastards, dogs and cheats' are now launching 'anti-locust' websites.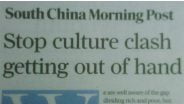 Yesterday's South China Morning Post pleaded for moderation, and its business columnist wrote a defence of Mainland shoppers' importance to our economy that curiously played down the negative impacts of the large-scale influx of tourists on those of us who are not landlords or owners thereof. It is not beyond the realms of possibility that Hong Kong officials – wisely keeping their heads down publicly in all of this – are calling editors and begging for some badly needed harmony to help calm things down.
Meanwhile chatterers are wondering how much Professor Kong's views reflect those of Beijing. His outburst was on an obscure Internet broadcast, but it gained sufficient attention to get it pulled by censors had it been referring to, say, Tibetans or Uighurs. You can get away with insulting Japanese or Westerners this way online, however, which would imply that Beijing deep down sees Hongkongers on a par with foreigners. Then again, you can also smear other fellow Chinese or Taiwanese in this manner, provided they do not enjoy government favour.
It would be nice to think that the latest Ngong Ping 360 Death Ride disaster would keep tourist numbers down, but I fear it will take far more than that. I can't see anti-tourist Facebook pages helping, either. I bought my Swire shares back during the SARS crisis, when airlines were grounded and malls deserted, and they were going for a fraction of today's price. Taking subsequent dividends into consideration, I pretty got them for free, which is why I can be even more philosophical about their and Swire Properties' current fate as Hong Kong ponders the Mainland Mass-Tourism Menace. It would take another earth-shattering outbreak of deadly pestilence or an equally cataclysmic crash of the Chinese economy to bring the share price/visitor numbers down. More's the pity. When do we start seeing Swire Properties dividends?