It is almost 24 hours to the minute since I became trapped in this elevator at the new Government Headquarters at Tamar. I had a quiet night spent dozing on the floor, sipping occasionally from my Hello Kitty water bottle and working out a way to keep my laptop battery from dying. At long last, I can hear footsteps and voices above my head – a rescue team coming to save me from this dangling tomb.
The access panel in the roof suddenly opens, and I find myself staring up a Dolce & Gabbana mottled grey skirt enveloping a very shapely pair of legs, with voluptuous thighs and dainty, lace-trimmed undergarments (pale blue). With a swirl of unlined wool, the limbs shift aside and an even more charming sight presents itself as radiant Administrative Officer Winky Ip peers into the lift.
"Sorry it's taken so long," she says. "All hell's broken loose here with this Legionnaire's Disease thing. People are wearing facemasks, washing door handles with rubbing alcohol, gargling with boiling bleach. Just like old times!"
Ah yes… SARS. Without which there would have been no Rolling Stones and Neil Young Harborfest concerts on this very site, and – very likely – no grandiose, two-legged Government Palace here today, either.
"The workmen will get you out soon," the opulently clad bureaucrat tells me. "And, um… what have you done with Ricky of Constitutional and Mainland Affairs?" She points at the Deputy Principal Information Officer (Sichuan). With his left hand clamped over a grille to ward off deadly bacteria, a finger of his right hand jammed into a power outlet near the ceiling, and a toe taped to the plug of my charger, he does look rather odd. I assure Winky that he's fine, and indeed admirably conductive. "Well I have to go and fill in my air-conditioning allowance claim form," she says. "Oh, and I thought you might like this." Today's Standard drops through the hole. Starved of news from the outside, I hungrily devour it.
It is amazing how the world seems to change in just a day when you have been trapped in an isolated metallic cave suspended eight floors up. Yesterday, Hong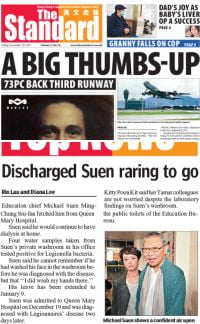 Kong people denounced government infrastructure projects as worthless, environmentally damaging and designed primarily to channel public wealth into the pockets of the tycoons. Today, the Standard eagerly reports, they are marching in the streets chanting "Death to dolphin scum!", "We want more aircraft flying in and out!" and "Give HK$136 billion of our money to the construction industry now!"
Another big turnaround concerns one of Hong Kong's most cherished historic monuments. Just a week ago, we all assumed its days were numbered; after many decades of service, it was physically crumbling and considered beyond repair. Now, a thankful city learns, visionary, innovative, lateral-thinking Education Secretary Michael Suen is out of hospital and looking forward to serving the community for another 51 years.
The elevator jolts slightly and descends a few feet. To the sound of gently sizzling acne, Ricky the Deputy Principal Information Officer (Sichuan) slides to the floor. A crowbar is working the door, and through the widening crack I can see the corridor. An elderly man with white whiskers is doing cartwheels and shouting something about how everything is fine because all the correct procedures were followed. And as I prepare to regain my freedom, I see that some things never change. A time-honoured Hong Kong tradition, granted UNESCO Intangible Cultural Heritage status along with Mongolian circular-breathing song and Iranian Lenj boats proudly continues: landing on passers-by…