Maybe the Germans have a word for it: a disproportionate and indeed irrational sense of injustice provoked by the sight of another person fortunate enough to enjoy benefits you do not have and which do not come at your expense in any way. Children tend to suffer from it, until they learn to rejoice at other people's good luck (or at least pretend to). There is a particular type of Hongkonger who seems rather prone to it as well, seething with outrage, for example, over having paid full price one day when a neighbour enjoys a discount the next. It is closely related to Kiasu, from the Hokkien 'afraid to lose', in which Singaporeans take such a perverse pride.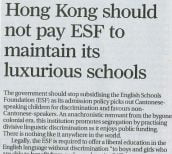 A ceaselessly entertaining example of the type is the anti-English Schools Foundation letter-writer to the South China Morning Post. The paper prints their diatribes – almost weekly – because it knows it is stirring up a hornet's nest; the letters are an implicit threat to a large portion of Hong Kong's Western parents to force them to pay higher school fees. What is more intriguing, however, is the psychology of the letter-writers.
Today's is from one Cynthia Sze of Quarry Bay. Two things stand out: first her reasoning, which has a simple and in fact rather sad explanation; second her implicit appraisal of the value of ESF-style schooling.
We can only guess, but it seems more than likely that Ms Sze attempted to get a child into an ESF institution. The schools, originally intended for colonial-era English-speaking kids, offer a relaxed international education, and a route to prestigious colleges and careers, subsidized by the government. Places are highly desired among Chinese-speaking families with cosmopolitan aspirations. When Sze junior failed to win a place, it seems, the mother turned into an extreme enemy of the ESF: if her child couldn't get a place, no-one else from a Chinese-speaking family should be allowed to either, and the non-Chinese families who remain should pay full fees.
Oh and, she adds, an ESF-style education is worthless and abhorrent to Hong Kong.
In all its mouth-frothing glory…
She calls the native Anglophone students 'non-residents'. Of course, they do reside, and were in many cases born in, Hong Kong. She presumably means that they are of European or South Asian ethnicity, and the idea is to goad white- and brown-skinned taxpayers into vitriolic responses.
The key thing is that her high degree of loathing for the ESF is very obviously in proportion to her one-time desperation to get the presumed Sze kid an ESF place. She, and many other Chinese families, lost out while others no different from them got their prince or princess into an ESF school. It is arbitrary, thus unfair, and the resulting bitterness "undermine[s] the city's moral fabric" and could cause rioting when more people understand. It is classic, unforgiving, vengeance-seeking blackballed-from-club syndrome, with obvious racial overtones (how many nationalist revolutionaries were radicalized when the foreign elite they hungered to join rejected them?)
She refers to the ESF's reputation with scorn and dismisses the product of the "outlandish institution" as "an 'international' curriculum with virtually no local content." Which leads us to a question not just for her but for the Hong Kong government: why should so many people be so keen to give their child that?