Hong Kong, city of tiny demonstrations, was busy over the weekend. A march organized by the hitherto unheard-of Caring Hong Kong Power opposing right of abode for foreign maids was intercepted by radicals, students and young post-80s activists denouncing racism. In the resulting clash (to use the Standard's word), people moved and climbed over barriers and police pulled a League of Social Democrats member's hair while arresting him.
Hong Kong is accustomed to parallel gatherings, like the (morning) pro-Beijing and (afternoon) July 1 events. And anti-government movements have occasionally prompted contrived Astroturf-style parades by supposedly average people demanding, say, passage of Article 23 security laws or construction of the underground high-speed rail link to Shenzhen. But – even if not exactly on a par with anti-Gaddafi rebels pouring into Tripoli – physical street confrontations between groups holding opposing views on particular political issues are a rarity.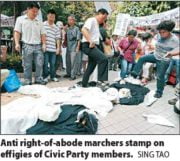 Although they seemed concerned solely about brown-skinned people getting right of abode (at least there's no word of their views on the thousands of whites who qualify) the Caring Hong Hong Power folk denied that they were racist. Perhaps this is so, because the main object of their ire, as is so often the case in this controversy, were the pale, fragrant and powdered-skinned Civic Party. The protestors showed a less 'Caring' side by stamping on effigies of the hapless CP members (who should be flattered – effigies are a sure sign that you have arrived).
The real-life CP members were off on another mini-demonstration, this one decrying police handling of Vice-Premier Li Keqiang's visit last week, and specifically demanding that Chief Secretary Henry Tang apologize for calling criticism of the security measures 'rubbish'. The Democratic Party mounted a rival mini-protest on the same subject, but this time demanding that Tang withdraw the remark. No violence between proponents of these two widely differing views was reported.
To sort out any confusion, our good friend senior current affairs commentator Joseph Yeung in China Daily reveals what the various critics of the above-averagely tight security arrangements are really doing…
"The people of Hong Kong," he continued, "were particularly encouraged and excited by the boosts as well as the great incentives package from the central government."
It's the anti-police protestors' fault that you didn't notice.
On the subject of incentives packages, it's not just gyms and central governments that hand them out: the Hong Kong authorities are finally ready to distribute the anxiously awaited free, no-commitment-necessary, special HK$6,000 Tedium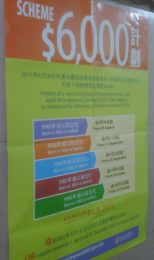 Bonus, to be given to every (permanent) resident in recognition of their extreme patience and forbearance. My own building management's communications committee – the pajama-clad spinster Ms Lam from the 3rd floor – usually sticks up any official-looking poster that arrives without question, but even she took an interest in the most recent one, taping it to the foyer wall with special care and relish.
If this doesn't ease the mounting social pressure, what will? You've been messed around. You've put up with years and years of incompetence, buffoonery and general idiocy. You've been sorely tested. In view of which, you've been offered a little something to make you feel better, and maybe induce you to shut up, but at a date long ahead in the future while complex, Operation Overlord-style logistics are organized. Now, here is what you've been waiting for.
The elderly, out of deference to their potential for violence when there's a freebie going, get served first.