To the 2011 Guangdong and Macau Branded Products Fair, a "carnival-style grand event embracing trade, cultural exchange, shopping and leisure." To my relief, I failed to detect any traces of cultural exchange. Nor was there much trade, at least in the sense of international buyers, merchants, import-export hustlers and similar types who wander the world's exhibition halls in search of deals. I spotted two people in the throng who were actually haggling about bulk purchases.
Indeed, most of the attendees were not even retail. They were simply scroungers from Macau's more third-world neighbourhoods on the lookout for free samples, obscure promised bargains, or at least the souvenir tote bag and fan. Ill-kempt Mainland immigrants at the bottom of Sin City's pile were pushing demented grannies around on decrepit, chipped-paint wheelchairs out of the 1930s. Complimentary shuttle buses and free air-conditioned entertainment: a no-brainer for an easily amused underclass on a Saturday morning. For me, it was the fan that clinched it. I use them to swat fruit flies.
Among the delights on offer, clockwise…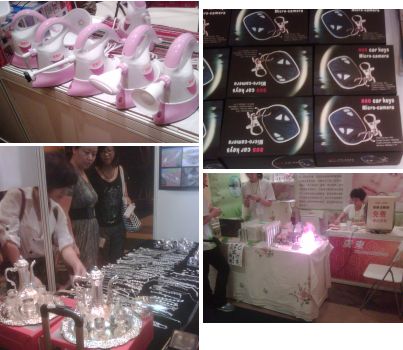 Pink irons with bizarre protrusions, such as mini-showerheads and brushes; key-rings, apparently controlling a car locking device but actually containing a webcam (perfect for spying in situations where you would not look odd leaving your car keys in inappropriate places); a weird glowing thing and similar devices guaranteed to enhance feminine beauty; silverware, including Arab-style tea trays.
The inevitable Hello Kitty and other floormats, many too small to be useful even by the standards of floormats; A space-age rice bin, which deposits measured quantities (100/150/200 grams) into the tray at the bottom at the push of a button; badly deceased pomelos, illustrating the provenance of a dried citrus peel that will cure all manner of ailments such as pharyngolaryngitis.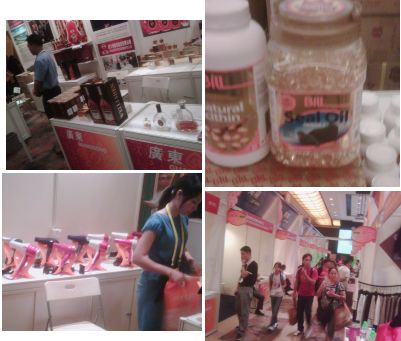 Fine, exclusive, vintage cognac in exquisite presentation boxes from Foshan City; seal oil (in capsule form, naturally); a stampede of impoverished Macau residents on hearing a rumour that a Maoming City jellyfish company salesman is giving something away; ultra-high-tech hairdryers, possibly related to the pink irons.

Paintings in a wide range of unpleasant styles; extreme retro phones on acid (I nearly succumbed).
Not illustrated: far more numerous forms of agar-agar than you could ever imagine existed. Also, a cassette player that converts your old tapes into MP3s – as idea whose time came several years ago and passed when we all finally threw out our dusty old TDK bootlegs.