Not one, but two, pieces of exciting and wonderful news.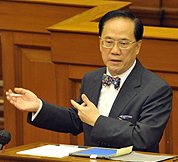 First, the Hong Kong government, with exactly 11.5 months to go before handing over to a new administration, issues a press release containing the important information that its policymaking isn't crap and isn't oblivious to public opinion. I am beside myself with remorse. For some time now I have occasionally had doubts about our leadership's decisions, and I think I might even have said so out loud. And to think I was wrong. My profuse apologies to our senior officials.
The Financial Times, meanwhile, publishes a little biography of Hong Kong mega-tycoon Li Ka-shing, whose Cheung Kong Infrastructure wants to buy the UK's Northumbrian Water. Li is, to be sure, in a league of his own among the Big Lychee's property cartel operators. He didn't inherit his wealth, unless you count a well-off uncle's helping hand after marriage to a cousin, and he started off working for and then running plastic goods factories during the sweatshop era of the 1950s and 60s.
The other property giants follow in Li's footsteps in a way that is more embarrassing than cynical. After Li raised easy capital from Hong Kong's superman-worshipping public by floating TOM.com at the height of the tech bubble in 1999-2000, Sung Hung Kai's Kwok brothers rushed to put their own dud portal to nowhere, Sun-E Vision, on the market, as did others. After Li floated his Prosperity real estate investment trust – itself capitalizing on the government's privatization of property via the Link REIT – Henderson Land ('Sunlight') and others cobbled together bunches of unwanted buildings, complete with financial arrangements designed to boost short-term dividends, in the hope of making a quick buck. So far, they haven't done a me-too act to emulate Li's Renminbi-denominated, historic milestone-gimmick Hui Xian REIT, but then it flopped when it was launched a few months back.
Li's purported great strength is in asset trading, the assets usually being steady cash-generating businesses like utilities, retail and ports. He has also dabbled in telecoms, only to face the horror of discovering that it is a competitive business in which consumers can choose between service providers. Like the other Hong Kong tycoons, and most of the non-Japanese/Korean/Taiwanese ones in Asia, Li doesn't do real entrepreneurism. When did a Hutchison or Cheung Kong company last come out with an innovative product or even a bold new business model that undercut rivals? The only thing these tycoons' conglomerates could ever patent is methods of colluding with each other and government.

Which is why it comes as a great revelation to read in the FT that it is an exaggeration to say that "anyone living in Hong Kong cannot go through a day without making Li Ka-shing wealthier."
I had previously imagined that those of us living on Hong Kong Island or Lamma could only avoid adding to Li's wealth by not using any of Hongkong Electric Co's power, or not buying goods or services from anyone who does. I always thought that it would be next to impossible to avoid doing business with everyone who lives in a Hutchison or Cheung Kong property and who at least pays eternal management fees to the developer's subsidiaries, or who shops at Hutchison's Park N Shop supermarkets or Watsons personal care stores, or who buys goods that have come through a Li container port or two. Even by patronizing rival suppliers of goods and services, where they exist, I suspected that in most cases you enriched a fellow cartel member who creates wealth indirectly for Li's firms by (legally) engaging with them in anti-competitive practices such as price-fixing. Indeed, I believed that the only possible way you could get something back from the Li empire was to deliberately subscribe to his 3 phone network in the hope that you would add to that company's losses (but even that won't work now it has finally turned a profit).
Thanks to the FT, I now realize that, as with the Hong Kong government's policymaking expertise, I was mistaken.