… for that exhibition, which opens tonight at Zee Stone, Hollywood Rd.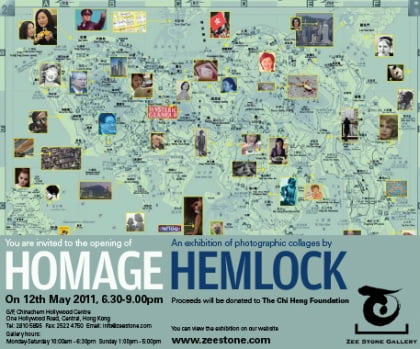 To read HK Magazine's description, Hemlock combines the towering might of both Rembrandt and Nuri Vittachi. Even if we allow for some exaggeration, I can safely say that the works are impressively big, bright (mostly), busy, not to say reasonably priced at HK$1,000-2,000. Along with their novelty, curiosity, souvenir and alleged aesthetic value, they also offer scarcity. Prints of Warhol's Banana are out there in the hundreds, and everyone's got a Toulouse Lautrec or 1920s Shanghai poster on the wall, but there will only ever be 10 signed copies of Sir David Akers-Jones Psychedelic Freakout. Guaranteed to get dinner party guests talking, at least after they leave. And, yes, it's for a good, if slightly-too-trendy-these-days, cause.
Remember, you will never actually own one: you will simply be looking after it for the next generation.