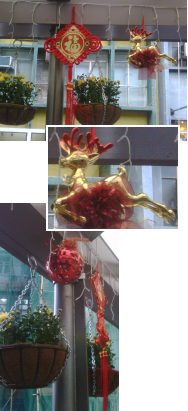 The mood on the Mid-Levels Escalator this morning is one of redoubled joy. The hanging baskets of fresh flowers, long a prized feature of the world's most amazing moving walkway system, were joined by strings of Christmas lights a little over a month ago. Within a morning or two, cheerful commuters noticed that shiny yuletide baubles were also dangling above their heads as they glided down the hill to Central. And now, to everyone's delight, this 'busy' assembly of festive decoration is augmented by the inevitable Chinese New Year lucky red things with tassels.
Conveniently, it is the Year of the Tiger's successor that is approaching, allowing the relevant department that prettifies transport infrastructure to leave Xmas wildlife motifs where they are: after all, a reindeer is basically a large rabbit if you think about it. The only real difference is that (to quote the Ucko and Dimbleby classic Domestication and Exploitation of Plants and Animals) if you are a male reindeer you may find that "Lapps wrap [your] scrotum in cloth and bite or chew it," which of course no-one in their right mind would do to bunnies.
On the top floor of S-Meg Tower, in the heart of Asia's throbbing financial hub, excitement fills the air as Hong Kong's biggest annual holiday draws near. The clash of cymbals; the boom of firecrackers; the bewildering choice of 10 different varieties of sunflower seed; the piled-up boxes of Danish butter cookies; the tins of Sugus fruit chews; the prospect of long meals with parents, grandparents and in-laws asking impertinent questions; the parade of children in

embarrassingly gaudy silk jackets. It is all too much to bear, and any sensible employee is finalizing plans for a very long weekend in one of those indistinguishable Bali/Langkawi/Phuket places where, in exchange for the almost microscopically small chance that you may be shot by a crazed bus-hijacker, you find a sunny refuge from the ritualized tedium of New Year.
Ms Fang the hunter-killer secretary strides into the gwailo's lair and places a box on my cluttered desk. It contains no fewer than 200 S-Meg branded lycee packets. If I put effort into it – and I feel confident in saying that I won't – I could just about get through about three of these things. I take 197 of them back across to the other side of Private Office and give them to Mephist, Ms Fang's industrious assistant, who is painstakingly folding HK$100 bills, extra crisply, with the aid of a metal ruler. A small iron on low heat stands by in case of mistakes.
She is spending the day inserting several fat stacks of the gleaming, fragrant new banknotes into the red envelopes for the Big Boss to distribute to anyone he meets starting in two weeks time. The cash by her side must add up to the best part of a year's salary for her, but she shows no signs of stuffing it in a bag and zipping off to Shenzhen to start a new life. She has a week in Penang on her mind. The Mid-Levels Escalator Ornamentation Department, meanwhile, is planning ahead and embarking on a survey to find space for Easter decorations.