The mood – indeed, the scene – on the Mid-Levels Escalator this morning is one of unconstrained lust, as Hong Kong's normally reserved and decorous middle classes clamour hungrily for the white envelopes being distributed by smiling, bikini-clad beauties in gold sashes alongside the miraculous moving walkway. The commuters eagerly tear at the wrapping, leaving the air and the sidewalks thick with a swirling snow of rough confetti as they gleefully pull out the desperately desired contents: New People's Party membership application forms.
The choice is simple. You can become a Friend of NPP, which according to the small print leaves you "…without the right to speak," or, after passing muster with a vetting committee, you can become an Associate Member and "…have no right to vote in general party meetings and run for party office." Both these categories of relationship with Regina Ip's emergent political force are free of charge.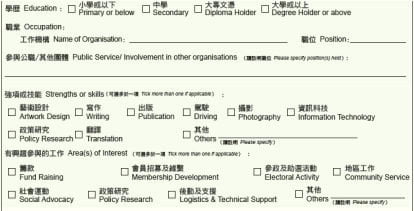 My neighbour at Perpetual Opulence Mansions, Mrs Chan the marketing manager, examines the papers and looks crestfallen. "This isn't what I want," she tells me. Her husband Ian has a Law Society badge on the Mercedes; they were recently – somewhat suddenly and unexpectedly – admitted to the HK Jockey Club, and their three-year-old daughter Patricia is undergoing special tutoring ahead of her kindergarten interview. "I want the full high-class membership, where you pay annual dues and have the right to speak and vote and run for office."
I pull a thick gold-trimmed sheet from my jacket pocket. "You need one of these," I tell her, "but I'm not sure if Regina's giving them out to just anyone at this stage." I unfold it and look at the luxurious embossed velum. While the application forms for second- and third-tier NPP followers ask about education levels and whether you can help out with donkey work like driving, translation or IT, this requests rather more profound personal details. The first question is 'Did you inherit a huge textiles fortune from your father?' The second is 'Do you own most of Lan Kwai Fong?'
Noticing her eyes turning homicidal red, I try to placate Mrs Chan. "I'm sure someone of your status will be acceptable," I assure her, gently patting the shoulder of her mink coat. "I'll see what I can do."
What else can I say? People need to understand what we are talking about here: 'Quality Democracy'.  What is the opposite of 'quality democracy'? Why, 'riffraff democracy', of course – the sort where just anyone can take part.
This is to political movements what an iconic luxury development with panoramic harbour views is to real estate. To put it in language we can all understand, if the NPP were an  apartment complex it would have a sprawling marble club house with chandeliers, and it would be marketed with pictures of cute kids playing with balls to highlight the point that this is such a lavish, up-market project it has enough space for kids to play balls in. It is only for those who have made the grade and expect the most refined and flawless elegance and sophistication. Those who demand Elite Exclusive Enhanced Excellence.
Sorry, Mrs Chan.