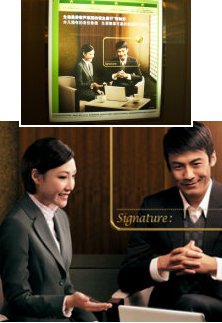 Strolling to the office, I am struck by a poster advertising Hang Seng Bank's Prestige Banking Personal Concierge Service. There is something disturbing about it. It is the stiff, wooden pose and eerily forced smile on the woman staff member that jumps out at the innocent passerby. What did the HSBC subsidiary's management or advertising agency do – or perhaps threaten to do – to make her act like that? The leering grin on the male customer's face suggests something unspeakably vile. My guess is that they are holding her children captive, and have already started cutting off little ears and pinky fingers to force her to appear in the publicity campaign. Or something equally horrific. No-one can do that naturally.

Safely ensconced behind my desk in S-Meg Tower, I flick through the day's news. I open the Standard and freeze in utter horror. Horse-racing in Hong Kong could soon become isolated from the rest of the world if the government does not come to its aid. Could anything more calamitous possibly happen? I was about to phone for the police to see if they could help rescue the Hang Seng Bank woman's children from their vicious tormentors. But this is serious. All our emergency services, not to say the rest of the public sector, must be focused right now on saving our horse-racing from a slow, lonely and painful death, lost and marooned far away from the rest of our planet.
Meanwhile, Hong Kong's Catholic Church grapples Aquinas-like with the question of whether property tycoon Li Ka-shing can justifiably be called a devil. The Cheung Kong/Hutchison boss is, I think, vaguely a Buddhist, but this could be an important theological debate: can a businessman who makes a fat profit by selling 600-square-foot apartments that have only 450 square feet of space really call himself a Christian? It is certainly relevant to Hang Lung's Ronnie Chan and Sun Hung Kai's Thomas the-one-with-the-hair Kwok, both of whom are inveterate Bible-thumpers.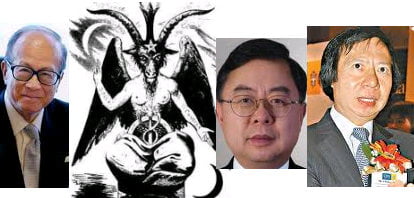 Catholics believe that you will go to Hell if you lie, cheat and steal in real estate sales or any other sphere of earthy life. The only way out is to say nine Hail Marys and really mean it, in which case you're in the clear. Evangelicals like these tycoons believe that you will go to Hell if you do not accept Holy Scripture as the literal and inerrant truth. Conning homebuyers is fine provided you can convince yourself that the universe was created by an invisible disciplinarian in the sky in under a week 4,000 years ago, and a 600-year-old man once built a giant boat and filled it with pairs of every species.
I know better. Punishment is here, for the living. Eternal wrathful damnation does not involve furnaces and demons with forks – it is a 500-square-foot (gross) luxury unit at Yoho Midtown with a vast chandelier taking up half the living room and nothing but copies of Asian Golfer and glossy spa brochures to read.