The mood on the Mid-Levels Escalator this morning is magnanimous tinged with anti-anthropomorphic, as Hong Kong's hard-working, disfranchised middle class digest the aftermath of Chief Executive Donald Tsang's exciting policy address.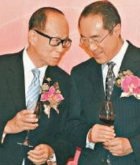 Feelings of goodwill gush towards the Big Lychee's property tycoons, who are donating carefully weighted sums of money to the government's Community Care Fund, which will provide swift and targeted support for those in need, filling a void left by the current social security system (which, we must infer, rather carelessly ignores those in need). The owners of Sun Hung Kai and Henderson are each contributing HK$400 million, while Li Ka-shing takes his rightful share of face by giving a neat half billion. Lesser moguls will no doubt stump up offerings in the HK$250 million range.
As we glide down the hill towards Central, Mrs Chan the marketing manager tells her neighbours how this generosity has transformed her view of our city's richest men. "I really hated the property tycoons before this," she tells us. "Partly because of the way they cheated and stole from and exploited everyone from taxpayers to home buyers to small businesses to renters. And partly because of the way they made massive extra profits as a result of planning loopholes and through weird decisions by bureaucrats who later went to work for them. And partly because their greed has blotted the landscape with monster towers that ruin the environment. And partly because of their sense of entitlement and extraordinary grip on policymakers. And partly…"
"Yes, yes – get on with it," mutters Mr Lee the banker, worrying that we will be arriving at Queens Road in just a few minutes before getting to the gist of it.
"Well," Mrs Chan continues, "after this astounding act of selflessness towards the disadvantaged, I feel totally different about them. I now honestly believe that the real estate magnates are the kindest people in the whole of Hong Kong. I really wonder where we would be without them. I'm going to write to Li Ka-shing personally and tell him that the next time I buy one of his new luxury apartments off-plan and I find that the 870 square feet advertised is in fact only 610 square feet, and some of that's basically a shelf or on the outside with air-conditioners on it, it will be my pleasure to give to such a noble cause."
Mr Lee nods in agreement. "And it's so nice seeing that nice Henry Tang having such a high-profile part to play in this new fund," he says. "I used to think he was just a rather dim sort of guy from a wealthy Shanghai textiles family who would be no better as Chief Executive than Tung Chee-hwa. But now I see him helping the poor like this, I've changed my mind completely. I'm going to send a big cheque to his election campaign when the time comes, I can tell you."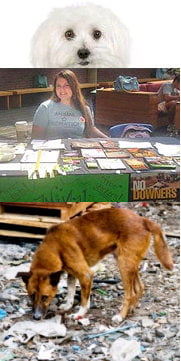 I can't resist shifting the conversation towards the most puzzling part of the Chief Executive's speech on Wednesday. The first ever mention (unless we count Governor Sir Archibald Hercules Bonham's comments about a wild tiger in 1851) of cats in a Hong Kong policy address. And dogs. I explain to my fellow commuters that the authorities are being pushed around by a group of wooly-minded, people-hating animal worshippers – mostly female, largely Westerners – who want dirty, vicious, disease-spreading stray beasts to be granted full human rights.
"What," I ask, "is the remedy for this health hazard?"
"Round the dogs up," says Mrs Chan.
"And shoot them," adds Mr Lee. "Or gas them – which ever's cheaper."
"So most of us would think," I tell them. "But the fanatics have other ideas." I explain that deranged anthropomorphs are demanding that feral animals be gathered together, taken for baths and grooming at the Peninsula Hotel spa, fed organic vegan tofu-steak, taken to a public hospital specially commandeered for the purpose, neutered by star  veterinary surgeons, dressed in ribbons and little booties and released back onto the streets to defecate and bite to their hearts' content with the aid of monthly handouts from the Community Care Fund. They also demand that Hong Kong University researchers release all SARS coronovirus samples, which they say are being kept in cruel conditions and subjected to evil Nazi-style experiments.
"But," I conclude, "I have it on good authority that Donald Tsang's remarks on our furry friends were just to shut these extremists up." On cue, in the distance, we hear a sudden outbreak of canine yelping cut short by the unmistakable and comforting sound of a shotgun blast. "The government's not that stupid."