It is 7.58am precisely on gleaming Podium 3 of IFC Mall, and wild American friend Odell and I stand with the crowd of other onlookers at a respectful distance to witness one of the most moving spectacles to be seen of a Hong Kong morning – the Changing of the Cleaning Guard. With a clipped command from the immaculately turned out Sun Hung Kai Deputy Assistant Property Manager, the assembled sanitation staff snap smartly to attention, their feet stamping the marble floor in perfect unison.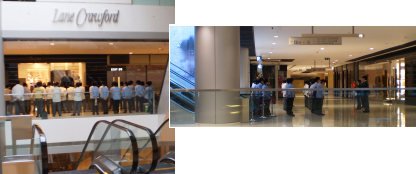 The ranks present their mops and brooms for inspection and listen to the orders of the day, including a stern warning to sharpen up the dropped ice-cream emergency response drill. The parade then falls out, and the unsung heroes who protect the luxury retail palace from dirt and grime march to their appointed duty stations. Unlike the lame flag-raising ceremony for easily impressed Mainland tourists at Bauhinia Square, this daily ritual is never cancelled due to rain.
Back downstairs in Pacific Coffee, Odell orders an organic sandalwood and wild juniper berry cappuccino and breaks some startling news. He has a new job. And not just any job – he is going to be running a bar.
I try to picture the scene in a drinking hole managed by the ex-Mormon. 'Hole', indeed. Through the stale, dim gloom, I can make out semi-conscious giant African hookers, ravaged tourists, tattooed illegal immigrants and off-duty Scottish cops piled up on a floor tacky with beer stains, gum, fermented upchuck and unpaid bar tabs, while the waitresses fight off the inebriated and lecherous proprietor himself with ketchup bottles. I suggest that it would be too much like mixing business with his idea of pleasure. But he has other ideas.
"This is gonna be a classy place, man. Not some dive in Wanchai, but a real elegant, up-market joint in Soho. Owned by one of those professional entertainment corporate groups that run all the places up there. They've hired me!" He describes the process of starting up one of these cookie-cutter outlets.

"First, you gotta have a cool concept. This one is trendy, hip, modern Japanese experience. It's gonna be called Sake San – geddit? Then, when you've got your premises, you need to surround the front with wooden boarding that sticks out into the street and forces passers-by into the traffic – or in this case, up against the Mid-Levels Escalator in Shelley Street."
He shows me the photos, and I ask why they always do that, blatantly using up public space during renovation.
"It's basically a marketing thing. Get right into everyone's face and say 'We're here! Fuck you'. It gets a buzz going. Next thing is I'm ordering the furniture and stuff. Samurai swords on the ceiling. Trendy, hip, modern, retro, space-age stools that look really glitzy but actually hurt to sit on. And tables that are so small couples have to eat their tapas from the same plate."
"Tapas?" I ask. "You mean like the free snacks they put on the bar in little bistros in Spain?"
"Yup," Odell says. "Soho has Japanese eating places, and quite a few wine bars and other drinking spots. This is going to be the first Japanese-themed drinking place. I'm drawing up the menu. Nagasaki-style soba noodle mini-pizzas lightly dusted with sushi at just HK$159 for two plus 10 percent – you get an extra one free on Thursdays if you drop off your business card. It'll be the latest informal but stylish place to chill out. Oh yeah – Hara-kiri nights every Friday."
I find it hard to hide my intense lack of enthusiasm. Presumably, the IFC Mall cleaners will drop by every day to sweep up any traces of character or personality.
"Hey, don't knock it," Odell insists. "It's the one exciting niche concept-theme that hasn't been done yet, except maybe Peruvian fusion. After this opens, Soho is complete."