Mon, 18 Sep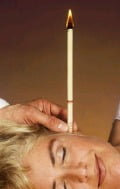 Originally intended to guard innocent citizens from merchants that lie and cheat, the Consumer Council unfortunately spends much of its time these days protecting the Hong Kong people from their own stupidity.  For example, strolling along Queens Road this golden autumn morning, pondering my flight to foreign parts this evening, I find myself almost overwhelmed by the urge to have someone put a lit candle in my ear. But I don't succumb to this impulse. Some deep instinct within myself begs me to reconsider. Candles are intended to aid sight and have no obvious connection with our auditory organs, do they? And melted wax burns. So the strange craving passes. For the less disciplined among us, however, the Consumer Council remains vigilant in warning of the hazards of placing burning objects into sensitive and useful parts of the body, while implicitly advising practitioners of holistic wellness into which orifice they can put their candles.
Tue, 19 Sep
Mid-morning, and after a few hours' drive west the bus from the airport pulls into the small big city. I get a taxi to take me out to Stonegallows Hall – a meandering journey through downtown degradation, vibrant inner suburbs, leafy outer banlieus, science park and mall-splattered exurbia and, finally, quiet country lanes knee-deep in falling leaves and horse manure. In the regenerated inner city neighbourhood we pass a silver-coloured police SUV with CITY CENTRE TEAM on the side. A cop in body armour, festooned with matt black electronic and other gadgetry, stands behind yellow 'crime scene' barrier tape. The taxi driver says someone was shot dead there the night before.  But the main problem, he tells me, is the traffic. After 20 years, he wants a change. Are there any jobs going in Hong Kong?
You can tell you're not in Hong Kong any more when you see…
Three tattoo/body piercing shops in a quarter-mile strip of main street.

Flabby, early middle-aged, peroxide-blonde mothers (apparently customers of aforementioned self-mutilation emporia) passing bags of candy and burgers through the railings of a high school where the canteen now serves only salads, fish, vegetables and low-fat yoghurt.

A weird new species of tree that has invaded and is thriving in all types of surroundings. It is significantly taller than most native varieties, with a straight vertical trunk. The branches are all at the very top, evenly spaced and sticking out just a few feet, dead horizontally. They then point sharply upwards, perpendicular. The entire body is covered with leaves of an identical, non-autumnal hue. It looks even more out of place than would a mobile phone mast.

A police car flashing a message through a display panel in its rear window – GET OFF PHONE NOW.

A headline about seven-year-olds worrying about their appearance. They are using laxatives to keep themselves thin.
Eventually, I am dropped off outside the family seat. If I were a member of the Narikot tribe in Nepal, the local women would come out and wash my feet and then drink the water to welcome me back. In Russia, I would be greeted with an offering of bread and salt. Here, before I can even drop my bags by the front door, I am presented with a modem, two ADSL filters and a length of cabling. After a year's absence, I have come at just the right time to get the broadband connection up and running.