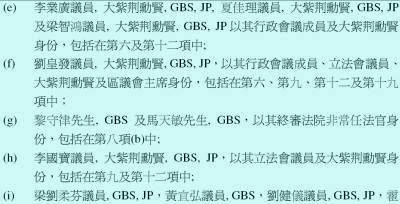 On the top floor of S-Meg Tower, in the heart of Asia's leading international business centre, the Big Boss dismisses the dynamic management team after the morning meeting, but he asks the Company Gwailo to stay. He is unnerved by a missive he has received from an obscure but uppity little professional body that appears to be lobbying Hong Kong's great and good for attention, respect or recognition.
They are not, I suspect, entirely representative of their trade, whose practitioners are acclaimed throughout the world for their no-nonsense, pragmatic, can-do unpretentiousness and, in some cases, tattoos. But in the hierarchy-clinging Big Lychee, where people crave letters after their name and a board member of a famous charity styles himself 'Duke', even plain and practical men can succumb to the ever-amusing vice of wanton status-fabrication.
These gentlemen's names are: Ir Dennis Wong, Ir WS Kong, Ir Charles Mok, Ir Stanley Ng, Ir CK Leung, and so on.
At first, I assume this 'Ir' is a misprint or a spelling mistake. The M of Mr has somehow come out as an I. But the letter M appears intact everywhere else in the letter – otherwise the third man on the list would be called Ir Charles Iok. It can't be the D from Dr, either, or there would be a Ir Iennis Wong. It says 'Ir' because they want 'Ir'. But these are Hongkongers, not people from overseas who would use exotic honorifics like Sri or Kuhn or Moulay or Tunku.
I am not even sure how you pronounce it. 'Ire'? 'Ur'? 'Ear'? (If the latter, what if the person's name is, say, Waxman?)
More to the point: what on earth does it mean?
The Big Boss is nervous. Like most members of the Hong Kong establishment, he is comfortable with his and everyone else's place in the order of things as denoted by titles, post-nominals and even positions at dinner tables. He needs to be able to identify others as inferiors, peers or superiors, and he can rank various permutations of 'The Hon', GBM, GBS, MH and JP, plus MBE and OBE, at a glance. But this 'Ir' thing is disturbing. Does he shoeshine them, or vice-versa? Probably the latter – no-one has ever heard of these people – but he must be totally sure. One of the Big Boss's greatest nightmares is failing to pay full symbolic deference to someone important. To refer to a fellow tycoon as 'Mr' and then find the guy has an honorary doctorate would be his idea of social death.
I tell him it must be something to do with the fact that these gentlemen are all engineers. A quick search on Google confirms it. It's an abbreviation of the French word 'Ingenieur'. It seems Malaysians, as if they don't have enough bewildering titles already, are particularly fond of it.
He can relax. "They're nothing," I assure him.
Not true, of course. Where would we be without our bridge-builders and tunnel-diggers, with their shiny hard hats and rolled-up blueprints? But 'Ir'? I can't believe this is going to catch on.