It is difficult enough for even the faster-moving breeds of Hong Kong civil servant to keep up with public opinion. For the flowchart-driven project-management plodders who for decades have been robotically covering land and water with highways, bridges and podiums, it is well-nigh impossible. They are not helped by the time-span of their missions. The time when you could keep life simple by filling in a chunk of harbour and putting ugly public facilities right on the waterfront was not that long ago.  The public mood on planning has changed so swiftly that it is perfectly possible for a big infrastructure project to have started back when no-one gave a damn about aesthetics and be only half-completed by the time the Big Lychee is teeming with eager new conservationists, preservationists, sustainability freaks, oxygen-breathers and other troublemakers.
Thus it is with the Central-Wanchai Bypass, an underground, six-lane freeway designed to speed up the drive from North Point to Central by [correction: to] a grand five minutes at a cost of… It says HK$28 billion here.  When I first read that, I thought, "Wow – that must be a typo." Then I thought, "Get real." So 28 billion it obviously is. You get a road above ground thrown in with it.
At some stage between conceptualization, drawing board, reclamation and commencement of tunnel-digging, outraged opponents sprouted apparently out of thin air. Save the harbour and billions of bucks, they said, and just introduce road charging to reduce traffic. This set off alarm bells. Word went out to ram all the legal and other paperwork through as quickly as possible. Transport bureaucrats insisted as if their lives depended on it that road charging alone wouldn't do because people 'must have a choice'. By this they meant a choice between roads with a charge and ones without – not between, say, driving and taking the MTR. Perhaps because they don't take the MTR, the new highway capacity seemed unusually important for senior officials, and no doubt for their friends at Aecom.
The rise of an uppity civil society mid-way through this gargantuan infrastructure project left the officials struggling not only to justify the mess but to put on a hapless show of pretending to let the public have some input. Hence the not merely intelligence-insulting but tragic Public Consultation on Exterior Design of Ventilation Buildings, the subject of a roving exhibition, with glossy brochures, currently underway in the old Central Market.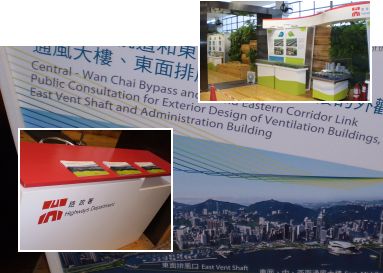 For the convenience and comfort of the civil servants whizzing their families between Central and North Point in their SUVs five minutes faster, the underground freeway needs huge ventilation outlets occupying lots of space and spewing out lots of fumes above ground. One is planned to go right in front of IFC Mall, on a bit of reclamation barely 100 yards deep that already manages to accommodate, by my count, five roads running east-west (the bypass will emerge from under the ground on the one remaining strip – currently grass – not covered by road).
Folks are not impressed. In fact, the location threatens the view, and therefore the rental yields, from property owned by Sun Hung Kai, which gives me a deep, instinctive feeling that the valiant engineers will find a way to shove the eyesores a bit to one side. But the main point is that someone somewhere seems to seriously imagine that consulting those of us who are not property tycoons on which inane design we prefer for a huge ugly polluting block of concrete makes everything fine.
Here's your choice, complete with dazzling poetic descriptions…
"…adding tenderness to the mass of the building."  Your tax dollars at work.