Who can account for the unusual things first-time visitors to Hong Kong imagine they must do while here? Two members of the Appalachian branch of the Hemlock family have just flown in to the Big Lychee. Among the many allegedly must-see attractions we will be avoiding if I have any say in the matter will be: a visit to the Landmark (except insofar as it is an unavoidable waypoint between places of interest); watching (or performing?) tai chi at some park that no-one who lives here has ever heard of; a trip on a fake junk in the harbour; the inevitable Stanley market; and some sort of Taoist gardens residents never knew existed.
It is not the fault of my backwoods cousins that they think these sterile, hackneyed or contrived features of the city are worth seeing. After all, the Hong Kong Tourism Board is recommending this stuff on its website – surely such a body knows what visitors would like to see.
At best, the HKTB suggested itinerary is a large-scale version of the English menus some restaurants offer 'foreigners' who walk in; the assumption that white people want sweet and sour pork and fried rice is self-fulfilling because the menu doesn't let them choose anything else. Bureaucrats at the Tourism Board push a replica Hong Kong at tourists because previous generations of visitors seemed happy enough with the real thing when it existed (before, incidentally, the HKTB did). Tourists want ethnic-looking sailing ships, bargain shopping and grinning chefs swinging hand-made noodles because the HKTB has told them that's what they will get.

It's a short step to re-inventing bits of Hong Kong in line with these falsely raised expectations, so – largely unnoticed by locals – parts of Des Voeux and Hollywood Roads have become Chinese Authentics Clusters under the labels Dried Seafood Street and Antiques Street, and fake-looking Chinese gateways of the sort found in minor Chinatowns in Europe or America now sit in unlikely parts of town, in line with what the HKTB imagines the tourists imagine Hong Kong should look like.
This pair of visitors, however, will see all that in passing. They will have to do the Peak, the clothes and electronic mini-cities of Mongkok, and – as an important dinner date awaits – Lantau. And a tram ride. But they will also get Octopus Card topping-up demonstrations at 7-Eleven, a few slices of squid/mayo/corn pizza, multiple rides on the Mid-Levels Escalator, the inspection of frogs in cages at the street market, and a chance to take part in this year's Worst Restaurant in Soho Survey. If they have a shopping experience in glittering Central it is as likely to be with a Filipino elf in World-Wide House as anything else. It's funny how places are not what you expected.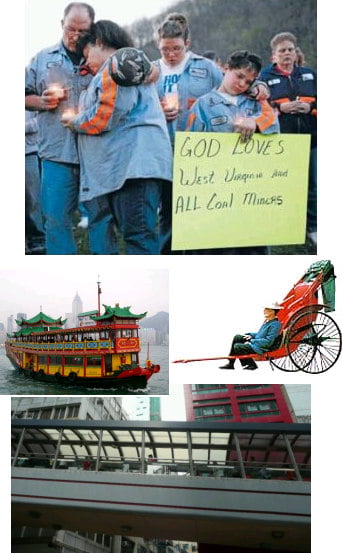 The vague plan for an influx of Hemlocks into the Mainland during the coming week runs up against a snag: visas will cost US$170 apiece (or something absurd) and getting them will tie up passports for several days when a Macau trip is likely. We mull over this. If my suspicions are correct, it goes back to some sort of dispute over the treatment US consular officials mete out to Chinese students applying to study stateside. We conclude that it is the sort of reciprocal, face-saving, innocent-penalizing BS you read about all the time but don't often encounter. We also consider the trade imbalance between the two countries, Chinese protectionism against Western companies, the incarceration of yet another overseas citizen on trumped-up charges relating to commodities information, and the treatment of people protesting against tainted milk and collapsing schools… And we conclude: "fuck 'em." Let the waiters, shop assistants and masseuses of Shenzhen starve.