Compared with the Israeli Defence Force's robust action against civil disobedience, the Hong Kong Police are amateurs. First, our local boys in blue confiscate the Goddess of Democracy statue – the icon of the annual June 4 vigil – and arrest activists for not having something called an Entertainment Licence (which, to be fair, they could use). Then, with protesters threatening to lay siege to the police station concerned, they offer to give it back on condition that the activists comply with a Leisure and Cultural Services Department requirement that a structural engineer must certify that the object, being over a particular height, is safe.
This hitherto unheard-of regulation, after hibernating silently for years deep within the Public Health and Municipal Services Ordinance, now suddenly awakens and leaps into action, either in a hopeless attempt to make the persecution of Tiananmen massacre protesters all the more terrifying, or in an equally clumsy attempt to save valiant law-enforcers' face. (The height of a displayed object at which this law kicks in is 1.7 metres. In plain English, that's 5 ft 7 ins. In other words, this is a legal loophole allowing the authorities to ban anything taller than Chief Executive Donald Tsang.)
Could this embarrassing little episode have been ordered by Security Secretary Ambrose Lee? Since he took ultimate control of the force – when he is not busy using publicly funded press releases to push the Bible – the Hong Kong Police have become noticeably more active in the suppression of unacceptable thoughts. The Operation Strike Hard-style crackdown on Goods of Desire T-shirts in 2007 comes to mind, as does the recent visit to Korkos Gallery on suspicion that someone might be violating the Willful Depiction of Unclad Women (Eradication) Ordinance.
Meanwhile, other senior government officials continue striving to convince us to call our directly elected, pro-democracy legislators and mercilessly nag them into voting in favour of the political non-reform bill next month.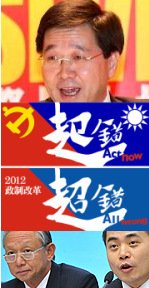 Not content with pushing the package, Lee's fellow fundamentalist Christian Constitutional and Mainland Affairs Secretary Stephen Lam is talking up the publicity campaign (which has indeed proved very popular among certain disaffected youth). Also-Evangelical Secretary for Justice Wong Yan-lung adds to my feeling that Beijing wants to backtrack after its earlier heavy-handed decision to punish mid-2000s Hong Kong by freezing political change.
"Voting for the 2012 proposals and seeking the ultimate goal of universal suffrage for 2017 and 2020," he says, "are two separate matters." This is a surprising statement, to say the least, after all these years of being told that this is all about step-by-step building blocks. This package is an irrelevant waste of time, he is admitting, let's please just get it out of the way. It won't, he adds, "prejudice the continual quest by some for abolition of the FC seats and clarification of the universal suffrage principles." If they can bring themselves to be just slightly clearer for the benefit of the more obtuse opponents out there, they might actually get this package passed – especially if a last-minute mini-concession appears. Assuming Ambrose's men don't rappel into Victoria Park spraying everyone with their Uzis.