Once tough, manly and fearless, ever-prepared to send its young men to Gallipoli, North Africa, Vietnam and Iraq, the Australian Government loses its grip and issues the following advice to its citizens:
We advise you to reconsider your need to travel to Indonesia at this time due to the very high threat of terrorist attack … On 17 July 2009, terrorists detonated bombs at the Ritz-Carlton Hotel and the JW Marriott Hotel in Jakarta. Australians were among those killed and injured…

There is a possibility of further terrorist attacks in Jakarta … Terrorists have previously attacked or planned to attack places where Westerners gather including nightclubs, bars, restaurants, hotels and airports … We continue to receive credible information that terrorists could be planning attacks in Indonesia…

The WHO has confirmed human deaths from avian influenza in Indonesia … rabies is present … Malaria (including chloroquine-resistant strains) is prevalent … Dengue fever occurs … Outbreaks of chikungunya have been reported … Japanese encephalitis and filariasis are also present…

Petty crime is common … Violence is sometimes used. Thieves on motorcycles … Bag snatching … Thefts from cars stopped at traffic lights … Credit card and ATM fraud … Foreigners have died after consuming brand name alcohol or local spirits adulterated with harmful substances … Cases of robbery and temporary confinement in taxis have been reported…boil all drinking water or drink bottled water, and avoid ice cubes and uncooked food … Avoid temporary 'black henna' tattoos…
The alert goes on to examine in great detail the nightmarish driving, unsafe aircraft and perhaps the most horrifying potential threat to antipodean visitors to Indonesia: the dastardly volcanoes (of which, it must be said, the country has a generous supply). Thankfully, I am not Australian and therefore unaffected.

What the wimp Foreign Affairs officials in Canberra could mention, if they wanted to temper their breathlessly hysterical backside-covering with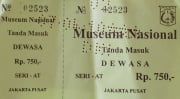 a little level-headed calm, is that precious foreigners can at least be assured of a safe haven at the Museum Nasional in Jakarta. This will also cause surprisingly little damage to their wealth, because at Rp750 (64 HK cents, or just under one US dime), the admission ticket must be the cheapest thing in Jakarta. Not even the really down-market, costs-less-than-a-beer apartments are in this price bracket.
Set in a purpose-built 19th-Century colonial building, the Museum Nasional doesn't just display artifacts from the past – it is from the past. The labels on the exhibits are jaw-droppingly uninformative in any language. Anything not in a glass case may be touched. It looks dusty and fusty, even if strictly speaking it isn't, or at least not much. Children come because they are forced to and hate it. (Although they seem boisterous and cheerful, many of them are, sadly, suffering from the delirious advanced stages of chikungunya. They are miserable really.)
The curators don't reach out, or try to connect or be relevant or part of the community. The essential message is: if you can't tell Hindu from Buddhist statuary or don't know a bit about Asian trade patterns during the times when Ming and Qing dynasty ceramics turned up here, you can just go away.
Gamelan, puppets, masks, costumes and Chinese pottery, as well as Persian, Indian and Arab imports attest to a thriving and rich creative and commercial culture going back well over 1,000 years. And then you see the necklace made of human teeth to remind us that the modern Javanese Empire, like its Han Chinese counterpart, has taken into its embrace regions where we're not in Kansas any more – in this case, jungles far to the west full of stone-age cannibals, though obviously we don't call them that. As in Shanghai, Tibet, Beijing and Xinjiang, every regional and ethnic group has its own name and is a happy member of the family.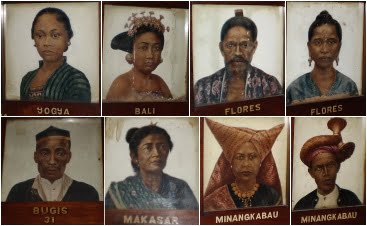 I love this place. No IMAX cinema, no simulator experience, no multimedia, no gift shop with plastic kit dinosaurs that glow in the dark. No political correctness, no revisionism. Not an interactive, inspiring, environmentalist or 'fun' exhibit in sight.

A few stuffed orangutans would be good. Also maybe a big, grainy, blown-up black-and-white 1920s photo showing henna-covered, filariasis-addled Papuan cavemen tucking into a freshly fricasseed, Melbourne-based explorer. Otherwise, what can I say? This is a museum that should be in a museum.