That horde of grotesque, dusky, steroid-sodden, half-naked, latent homosexuals stampeding like spongiform encephalopathy-ridden buffaloes, pausing frequently to writhe in the mud, groping thighs and grinding their faces between one another's buttocks – the Rugby Sevens, in short – is back in town. For the small elect of Hong Kong's western population who are too cool to join the crowds marching zombie-like to the stadium, it is just another weekend. For fans of contrived, ritualized, anonymous, mass-fun made bearable by alcohol poisoning, it is the, or at least a, highlight of the year.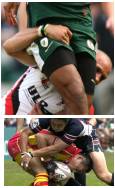 Yet, even though an outsider, I get a sense that the event has seen its glory days. I recall the heart-rending piteous misery and grief of innocent expat men, women and children railing on radio phone-ins at the injustice of a ticket distribution system that apparently allocated most of the seats to mysterious and no doubt evil sporting and corporate entities, leaving the downtrodden public to starve. I remember the blistering righteous fury of the Anglo-Saxon lynch mob against the dreaded 'touts' – the scalpers who applied the immutable laws of supply and demand and sold precious tickets for whatever the market would fetch. And who can forget the war stories told by survivors about the lines for the toilets?
Nowadays, at least to a distant onlooker regarding no more than an anthropological curiosity, it seems more organized, sanitized and therefore predictable and stale. It is about as exciting as Christmas. The Hong Kong government, I am reliably informed, has sponsored a huge light box on Gloucester Road greeting the Sevens in perfect Chinese – with an English translation referring to the event as 'Mini Rugby', the kids' tournament played (if I recall correctly) as spectators drift into the ground on Saturday morning. When civil servants start trying to help it along, can the end be far away? Lan Kwai Fong Inc herds dazed fans emerging at the end of the day onto buses for transportation to the city's fakest and most over-priced bars. Historians will ask why they put up no resistance.
If I were more public-spirited, I would intercept the families, couples and boisterous little mobs on their way to Happy Valley, all obediently wearing their sponsored rugby shirts, and try to talk them out of it. "You've been brainwashed!" I'd say. "You think you're enjoying yourselves, but you're not – you just think you are. You've been conditioned to believe this is pleasurable through subliminal propaganda and communal reinforcement. One glimpse of a monster Fijian bicep, and you salivate for a San Miguel! You're being used! Rise up! Be free! You don't have to do this! Enjoyment is a spontaneous, magical moment of glee, not something you put your diary!"
But I can't be bothered. I will, however, have authentic fun.
I declare the weekend open.