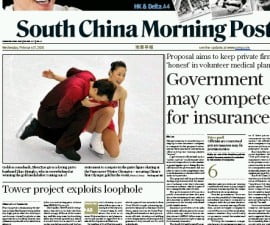 The front page of today's South China Morning Post juxtaposes two stories.  According to the first, the government could establish an insurance company of its own to compete with private-sector providers of health coverage if and when some sort of incentive system can be devised to convince the middle class to pay more for their (currently heavily subsidized) hospital bills.  Officials believe that, left to their own devices, private-sector insurers will collude to exclude people who tend to get ill and to keep benefits so low that people would just carry on using the public hospitals anyway.
It will be interesting to see how an administration that has just blown the equivalent of over two years' public health-care expenditure on a 16-mile high speed rail link manages to convince the white-collar workforce to shell out more for its appendectomies, childbirth and other in-patient procedures.  Especially since this is the same administration that keeps housing in artificially short supply in order to force these same families to divert much of their income to the property cartel for a couple of decades in return for a 450-square-foot rabbit hutch to live in.  But still, the basic message is that the government is alert to the possibility that evil, exploitative corporations will bleed poor consumers dry if given the chance.
The problem here is that the general (ie non-life) insurance industry is not, by the standards of Hong Kong's domestic economy, a rip-off.  It is not exactly a popular business, of course, and thousands of people will whine about the unfairness of the small print they didn't read.  (The meagerness of many employee health plans is of the employers' choosing.)  But it is a very low-margin sector.  Many players lose money on basic insurance operations – paying more out in claims than they make from premiums – and rely on investment income for earnings.  As they should.
Skeptics who doubt this can consider the following question.  Which of the following industries is the odd one out: supermarkets, bus services, electricity, property, household gas, insurance, construction materials supplies and ferries?  The answer is the one that offers the least opportunity to corner the market, exercise monopoly power and/or collude with government or fellow cartelizers.  Our property tycoons aren't in the insurance business because it is a level playing field, and they're not interested in competing for a living.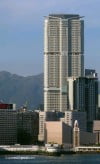 For an idea of the property tycoons' dream deal, we can turn to the second item on the SCMP's front page, about the 67-storey Masterpiece tower, a Tsimshatsui eyesore developed by New World in conjunction with the Urban Renewal Authority (a government body that somehow mutated into a purely profit-driven real estate juggernaut).
In a nutshell: planning authorities first authorized a massive building on the assumption that it would be used for offices plus public facilities; they then allowed part of it to be a hotel; they then agreed (being old pals of the URA, perhaps) to be flexible about some of it being hotel-like rented serviced apartments; they then changed the rules temporarily to allow serviced apartments to be sold as private residential properties.
The result: a huge luxury apartment block in an area zoned for office use, and (we can guess) astronomic profits for New World, selling something like unit 63E, for example, for HK$30,000 a square foot to a Mainlander with the good fortune to be able to pay in cash.  It makes the Grand Promenade scandal, which yielded Henderson Land HK$3 billion extra profit after a helpful bureaucrat let them double the size of the project, look amateurish.
Obviously, the Independent Commission Against Corruption will soon be kicking civil servants' and developers' doors in and carrying away PCs and boxes of papers so they can find out how all these convenient discretionary decisions and loopholes happened to materialize when and where they did.  Except they will be too busy investigating some primary school teacher for claiming a subsidized housing loan when her husband already had one.
Health insurance just doesn't have this sort of pizzazz.