The Standard reports that the resignation of five legislators to force by-elections is "not a part of a campaign … to seek independence for Hong Kong."  Damn.  What a bitter disappointment to those of us who assumed that the founding of the Big Lychee Free State was just weeks away.  I've even been designing a new flag.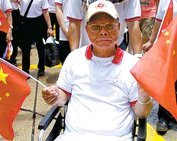 The article goes on: "Pro-Beijing stalwart Tsang Hin-chi said anyone trying to promote a referendum is 'brainless' as Hong Kong is part of China."  Could this be the Dr the Hon Tsang Hin-chi GBM who has two convictions for using falsified trade documents and an asteroid named after him?  Last seen scowling in his wheelchair while carrying the Holy and Sacred Olympic Flame last year.  I thought he was dead.  Being capable of such flawless logic, obviously he is not.
Just to make everything clear: "…Liberal Party chairwoman Miriam Lau Kin-yee [said] her party will be working closely with the Democratic Alliance for the Betterment and Progress of Hong Kong in fielding candidates in the by-elections … But DAB vice-chairman Ip Kwok- him said views are split in his party and that it would only join in the by-elections if they are not seen as a referendum."
Seen as a referendum?  By whom?  Not by the boss: "A [government] spokesperson reiterated … that any kind of referendum has no legal basis."  For good measure, the government issues yet another press release in which the word 'referendum' is used repeatedly to emphasize the point that one isn't going be taking place.  I suppose simply referring to the polls solely as 'by-elections' is too difficult?
The South China Morning Post meanwhile reports that a nine-year-old girl who named her hamster 'referendum' has been arrested and the creature humanely destroyed.
Actually, what the SCMP gives us* is Lau Nai-keung – patriot, scourge of pro-democrats, and compelling study in mental fracturing, week by week, column by column.  Just when you thought his mouth-frothing hatred and loathing for the world couldn't get any more pathological, he manages to get just that little bit more psycho.  It is far and away the best reading in the newspaper:
I can hear the rumbling of the tanks trundling across the border, squashing anti-rail protestors and hamsters in their path.  Must hurry and finish that flag.
* In the print version only – today's op-ed page isn't on-line