The "deep-rooted contradictions" premier Wen Jiabao underlined in his meeting last week with Hong Kong's increasingly distressed chief executive Donald Tsang Yam-kuen were, Sir Bow-Tie insisted, economic.  So we will have to find another word to describe the plain weirdness in today's papers, since the underlying problem would appear to be a political structure in which the opposition rather than the government has the electoral mandate – rather than, say, weak GDP growth.
First, a group of engineers born since the 1950s who favour democracy proclaim their support for the HK$67 billion high-speed rail line, and thus their contradiction or whatever to the youthful idealists born since the 1980s who favour democracy and oppose the project.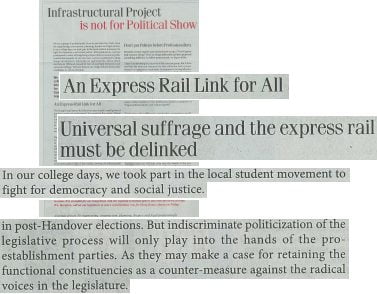 The graying professionals essentially criticize the youngsters for being misled by radicals (Long Hair's League of Social Democrats) and imperiling prospects for universal suffrage by politicizing the infrastructure boondoggle.  The fact that this argument itself drags political reform into the debate seems to escape them, but is a well-known characteristic of human nature that when our personal interests are involved, objectivity and conscience about the greater good go out the window.
To complicate matters, a parallel group of engineers – the Professional Commons, who have mounted an informed and detailed campaign to slash the costs of the platinum-plated rail line – lash out at officials for (though they're too polite to put it this way) lying behind their backs about their proposal.  The sheer poverty of confidence, intellect and integrity in the administration makes the charge impossible to disbelieve.
Cue transport secretary Eva Cheng justifying the rail link on the grounds that her recent trip on the Wuhan bullet train didn't make her dizzy.  She obviously wasn't thinking about that astronomical sum of money.
From pro-democrats fighting for corporate handouts to tycoons claiming to want political reform: tycoons such as Hopewell Holdings' Gordon Wu, Chinese Estates' Joseph Lau and Stanley Ho's daughter Pansy proclaim themselves members of the silent majority.  Even if the cost leaves her unfazed, Eva's head will surely spin at the (non-contradictory) incongruity of this.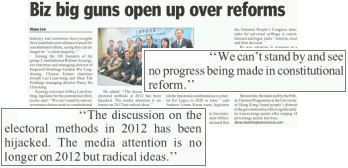 Who would be so cruel as to shove poor old Sir Gordon into this assembly of second-rate real-estate flippers?  The fingerprints of the Chinese government's local liaison office – the Rich Patriots' Astroturfing Department, to be precise – are all over the place.  But why?  Are we seriously expected to be inspired or persuaded by an extremely wealthy and privileged group of Beijing's useful idiots?  Does someone genuinely imagine that we hero-worship Gordon Wu, think Joseph Lau is a hunk or have a picture of Pansy pinned to the wall at our bedside?  This isn't contradiction so much as hallucination.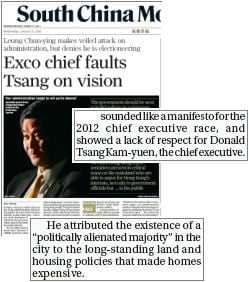 Last but not least, the South China Morning Post devotes its front page to CY Leung's Hong Kong Journal article, concluding more or less that it is both an election manifesto and a public rebuttal of Donald Tsang.  There isn't much Donald can do about this, because of course there is no deep-rooted or other contradiction to be seen here; even taking CY's Executive Council Convenor badge away would be out of line.  Nothing strange about a cabinet member running around bad-mouthing unpopular official policy and making himself a man of the people while the chief executive-in-waiting Henry Tang has to sit in silence doing his nice-but-dim act.  Nothing odd at all.
We must focus on the economy.