Of all the treasures of South China's great cultural heritage, such as Cantonese opera, porcelain-painting and calligraphy, there is one art form at which Hong Kong truly excels: advertising.  For proof we need look no further than page 3 of today's Standard, which carries an ad in the form of a Letter to Professor Kao.
Charles Kao is one of the winners of the 2009 Nobel Prize for physics.  Back in the mid-1960s, he worked out how to send electric light signals through hair-sized tubes of glass – without which Asia's great Internet disruption of early 2007 following the rupture of fibre-optic cables off Taiwan would never have been possible.  According to which newspapers you read he is Chinese, a Hongkonger, British or American.  Since the US and the UK have so far won more Nobels than any other countries, it only seems fair that the land of his birth should celebrate Kao's achievements, even though he accomplished them in the West (and let's not even consider what Mao's Red Guards would have done with him had he been in the Mainland at the time).
So, as with several other Nobel winners and a number of other eminent foreign citizens with the right ancestry, the motherland lauds Kao as its own.  Fair enough: he was born in Shanghai.  And Hong Kong claims him too, on the grounds that he was head of Chinese University and lives here.  Leaders and academics rushed to congratulate him, and Hongkong Post will probably feature him on a stamp.  (Inevitably, it all gets a bit messy as nonconformists debate the need for ethnic pride and the role of exile in Chinese success.)
Then it all went a bit sour as it emerged that the distinguished professor would not be doing many interviews, guest appearances and projections of glory in which riders of coat-tails could bask.  Sadly, he has Alzheimer's.  At times, perhaps, he is one of the few people in town who have never heard of Charles Kao.  His devoted wife Gwen does the smiling and talking, and no doubt much else, for him.  For most of us, at least, this took the shine off the story.  But not for everyone.
Somewhere in the Big Lychee, in an obscure office, in a little-known tower, in an unfashionable street, in a low-rent district, alarm bells went off – the urgent Ke ching! Ke ching! Ke ching! of the cash register, to be precise.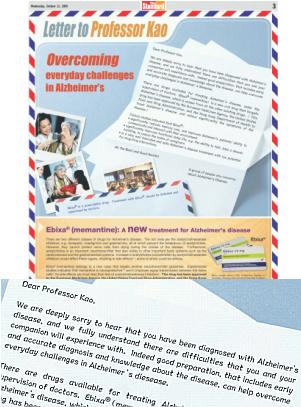 In all fairness, the advertising company and its client had the decency to wait almost two weeks before launching this campaign.  It is a full-page ad in the form of a letter to Kao from "a group of people who concerns [sic] about Alzheimer's Disease," expressing sympathy for his plight and gently introducing him to Ebixa®, a new treatment made by a firm called  Lundbeck that "significantly improves functional daily life, eg the ability to talk, take a shower, toileting, to reduce the tasks of caregivers…" Included in the 'letter' are some photos of Gwen accepting honours on her husband's behalf.
Some might call it tasteless, callous and shallow, but I see the bold, imaginative, quick-thinking opportunity-grabbing that has made Hong Kong what it is since 1841.  And Ebixa® is, presumably, less addictive and socially ruinous than some pharmaceuticals traded in the city's earlier days.  If only there were a Nobel prize for marketing.
(Grubby cynics, full of bias and contempt, will be asking themselves where the Lundbeck company is based.  Wuhan?  Chongqing?  Some smoky grey sprawl in Shandong with a gleaming front office in Shenzhen?  Shame on them.  It's from Copenhagen, Denmark.  As for the ad agency: pure-bred Big Lychee, surely.)