It is unlikely that many people will want this small book, which is just as well since it must be difficult to find.  It was recently published by the author's widow, perhaps primarily for circulation among family and friends, but the fact that a price appears on the back cover (HK$60) suggests a hope for a wider audience.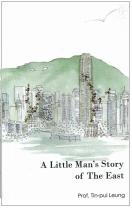 One way to get hold of a copy of A Little Man's Story is to visit a member of Hong Kong's great and good one day when his personal assistant is tipping boxes full of unsolicited gifts from admirers onto his desk.  As the little tome falls out, you should pick it up and comment on the charming cover artwork.  The scowling wench will press it into your hands and mutter "He won't read it – he never reads anything."  The next step, when you are leaving, is to take an elevator that gets stuck between floors at a time when all the traffic from Wanchai to Pokfulam has ground to a halt because of a fleet of trucks delivering goods to the Convention and Exhibition Centre.  Being non-urgent, you then have two hours waiting for the fire department to arrive – with nothing else to read.  It worked for me.
So who was Tin-pui Leung?  The HK Polytechnic University obituary reveals him to have been a respected and gifted engineering professor who trained locally, in the UK and in Beijing.  As well as sitting on many Hong Kong public boards, he served on a body connected with safety at the Daya Bay nuclear plant and on a committee of experts for China's space establishment.  He was also a member of the Chinese People's Political Consultative Conference – a symbolic reward for loyalty.  The Hong Kong government fobbed him off with a Bronze Bauhinia Star, which suggests he made genuine contributions to society (Silvers tend to go to obsequious yes-men, Golds and Grands to multi-billionaires).  He died at just 62.
A Little Man's Story is a history/memoir written in the form of fictionalized dialogue between an older man and his son and several other figures, including a British friend who worked for the Far Eastern Economic Review.  Beneath the surface, it is essentially an attempt to reconcile a quandary that many older, educated Hong Kong Chinese people face: how to define their personal relationship with their country and, more to the point, its ruling party, when they benefited so much by being brought up on stolen land run by foreigners.
For opponents of the Communist Party, the answer is relatively simple: love the country, hate the ruling power and don't be ashamed to cite Hong Kong as evidence for the benefits of freedom and pluralism. For unwavering believers faithful to the red creed from Marxist-Leninist theory, through deranged Maoist dictatorship to post-Deng crony capitalism, it is also an easy question: no CCP, no New China poised for top place in the 21st Century world.
A Little Man's Story shows how much harder it is for Hong Kong people who don't want to be disloyal to a regime they presume was always trying its best to do a difficult job, but who can't submit to the full worshipful dogma of party infallibility.  They feel resentment at the racism and hypocrisy of colonial rule, but also humiliation at the inability of China to get its act together.  On top of that, having lived in a parallel universe with no anti-rightist campaigns, famine, Cultural Revolution or 6-4 killings, they have a sort of survivor's guilt.
All this is apparent from the book's discussions of events in Hong Kong and the mainland from the 1920s to the handover.  Rather than argue, the main characters – Cheung Sam and son Han-li – largely take it in turn to agree with one another.  China's traditions are magnificent but its backwardness a misfortune.  The West has some strengths but also weaknesses.  Mao was cruel but necessary – and a fine strategist and poet.  They look back at colonialism, Japanese occupation, revolution, Hong Kong's riots, campaigner Elsie Elliot (now Tu) and the beginning of the Diaoyutai Islands movement.  The "June 1989 events," they admit, "gave many Hong Kong people uncomfortable feelings."  John Evans the old FEER man chimes in as a sympathetic Western chorus.  China's leaders should listen to the people more, he says after the Beijing slaughter, but it is partly the people's fault for their habit of hiding their feelings until it is too late.
It seems likely that Leung wrote the work while terminally ill (one character in the book dies of prostate cancer).  Is it an effort to atone for a comfortable life while most compatriots suffered?  Is it an apologia by a member of the mildly pro-Beijing camp for Hong Kong people's pragmatic tendency to sit on the fence and avoid awkward ideological choices?  Is it an attempt by the author to convince himself as death approached that he was right to put academia and teaching first, and take the path of least resistance in public affairs?  Take your pick.
We can say that it is an idiosyncratic history of modern Hong Kong and China (complete with factual errors) that unwittingly highlights the tragic effects of deference to authority and aversion to debate or criticism on its subject.  As such – worth a couple of spare hours in the unlikely event that you find yourself with a copy.