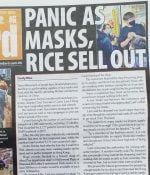 Among yesterday's scenes from Hong Kong's Time of Plague – people stripping shelves bare of hand-gel and even food. Do Carrie Lam's aides brief her that this is happening, or is she oblivious to this unmistakable, age-old sign that maybe citizens' confidence in your administration is not what it could be?
Atlantic is admirably quick off the mark with an article about how the Wuhan virus is bolstering (nurturing? deepening?) the pro-dem protest movement.
You wonder what Carrie did in her past life to deserve one near-fatal blow after another. First, the dismally handled extradition bill, intended to be quietly rushed through but ending up as a toxic-waste atom bomb exploding in her face. Then the unleashing of an out-of-control paramilitary protest-suppression police force amplifying the collapse of government legitimacy. And now a disease from the Motherland causing such debilitating symptoms among officials as denying reality, dithering, and then making partial U-turns when it's too late.
(Owing to insufficient bandwidth, we'll ignore the many self-inflicted minor wounds, like Carrie's complicated relationship with face masks.)
What happens next? Is this not a great time to push an Article 23 national security law – maybe with a National Anthem (Compulsory Adoration) Ordinance to ease the way?
But wait! There's more!
Another vignette from yesterday: residents outside a New Territories public hospital shouting at approaching Mainlanders that the facility is for 'British dogs' only. (The pestilence does not impair snark.)
Not only is the Wuhan virus pulling the Beijing-appointed Hong Kong government further down into the swamp of ignominy, it is undoing all that hard work officials put into bringing Hong Kong and the Mainland together through 'integration', Bay Area opportunities, the Mega-Bridge to Nowhere, the High-Speed-be-in-Wuhan-for-lunch-Rail Link, familiarization tours for schoolkids, and dozens of other initiatives to strengthen national pride and consciousness and lovey-dovey cross-border kinship.
Here's the irony. All of these messes – the extradition bill fiasco, the degrading of the HK Police, the outbreak of a mystery bat-to-human disease, and the latter's negative impact on cross-border relations – have their origins in Chinese Communist Party desire to maintain and tighten its control and instil harmony throughout its domain.